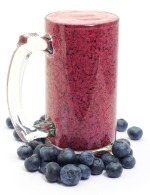 It's only appropriate that the inaugural smoothie recipe I post is one of my favorites. There are a myriad of health benefits attributed to blueberries, including but limited to, antioxidant powerhouse, brain food, anti-aging, anti-cancer, and eyesight improver.
Living in Michigan, one of the top blueberry producing states, I buy them by the pound when in season and freeze a fair amount for future use. Most grocery and health stores now carry frozen blueberries (go organic when possible) ready for all your smoothies needs.
Here's a basic blueberry smoothie recipe. Feel free to tweak to make a larger amount or upgrade the nutrition with an add-on or two.
The Ingredients
1 cup milk
1/2 cup frozen blueberries
1/2 teaspoon cinnamon
A little honey or stevia to sweeten
The Add-ons
1/2 teaspoon vanilla extract or powder
1 serving of your favorite protein powder
1/2 cup other frozen fruit (raspberries, strawberries, pineapple, mango)
1 tablespoon maca
1 serving green superfood powder
Show Time
Place all the ingredients into a high speed blender and blend on high for 30-45 seconds or until desired consistency is reached.
Please let me know how you liked it.