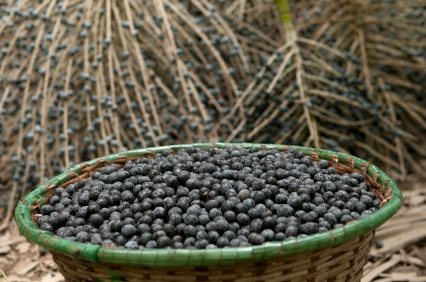 If you've browsed the internet in the past couple of years you've most likely seen ads for the miracle weight loss acai berry diet. This is just another fad diet in a long line of fad diets. However, acai berries are a legitimate superfood that pack a huge nutritional punch and are an excellent smoothie ingredient.
Acai (pronounced "ah-SAH-ee") is a little blue/purple berry native to the Amazon rainforest. The berries come from acai palms, which are tall, slender, and range from 15–30 meters.
Amazonian natives have been consuming acai for centuries because of its legendary health properties. These phenomenal health properties are becoming more well known and mainstream (acai landed on Oprah Winfrey's Top 10 Superfoods list).
Acai Berry Health Benefits
Energy Booster
Aids in Weight Loss
Antioxidant Powerhouse: Acai ranks near the top of the ORAC scale, containing more antioxidants than blueberries, red grapes, and pomegranate.
Heart Friendly
Great for the Skin
Helps Digestion & Detoxification
Reduces Cholesterol
Minerals & Vitamins Galore: contains a wide variety of minerals and vitamins and is particularly high in calcium, phosphorus, beta-carotene, and vitamin E.
Contains 19 Different Amino Acids
Combine acai with mango and banana and you've got a great tasting, highly nutritious smoothie!
Acai Mango Smoothie Recipe
The Ingredients
1 cup water
1 tablespoon acai powder, 2 tablespoons acai juice, or 3.5 ounces (100 grams) frozen acai puree
1 cup fresh or frozen mango chunks
1/2 banana (optionally frozen)
A little honey, stevia, or maple syrup to sweeten (optional)
The Add-ons
1/2 cup pineapple
1 tablespoon chia seeds or chia seed gel
1/2 tablespoons maca
1 serving of your preferred protein powder
Show Time
Place all the ingredients into your blender and blend for around 30-45 seconds or until nice and smooth.
Nutrition Information
Calories: 222
Fat: 6g
Protein: 3g
Carbohydrates: 42g
Fiber: 6g
Sugar: 32g
Vitamin A: 21% RDA
Vitamin C: 109% RDA
Calcium: 5% RDA
Iron: 5% RDA
Please leave a comment below if you try this acai mango smoothie. Happy Blending!