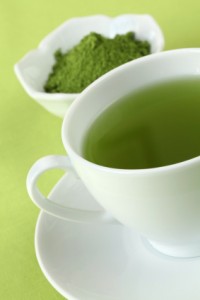 Take your green smoothies to the next level by using green tea as the base. Unless you brew a super strong batch of green tea, you won't notice the taste in your smoothie, but will reap all the wonderful health benefits green tea has to offer.
So, what's the big fuss over green tea anyways? A considerable amount of research has been conducted, primarily in Asian countries, revealing a mountain of health benefits. First and foremost, green tea is a longevity food. It's an antioxidant powerhouse, prevents and fights numerous cancers, and is tremendous for the heart. I would need to write a short novel to cover every health benefit, but here are the big ones:
Promotes fat loss
Protects against a myriad of cancers
Cardiovascular system "caretaker"
Helps the elderly stay mentally sharp while also protecting against age related mental diseases
Fights the flu
Lowers blood pressure
Improves insulin sensitivity in type-2 diabetes
Helps build strong bones
Protects the liver
Improves endurance
Honestly, I thought I knew all there was to know about green tea, but was overwhelmed by all the data I uncovered when researching. For more information on green tea and its vast and various health benefits simply run a Google search.
If using green tea as the base of your smoothie doesn't appeal to you, matcha green tea powder is another option. Matcha green tea powder is like regular green tea on steroids because with matcha you're ingesting the entire leaf and not just the brewed water.
Another "smoothie trick" to consider is making ice cubes out of green tea, or any tea for that matter, for use in your smoothies. Personally, I brew large batches of tea, cool, and use throughout the week.
Now go brew up some green tea for use in the recipe below. Enjoy!
Green Tea Smoothie Recipe
The Ingredients
1 cup brewed green tea, cooled
1 fresh or frozen medium banana
1 cup baby spinach
1 teaspoon coconut oil
1 teaspoon honey
The Add-ons
1/2 cup fresh or frozen berries of your choice
1/3 cup yogurt
1 serving of your preferred protein powder
Show Time
Place all of the ingredients into your blender and blend on high for 30-45 seconds or until the desired consistency is reached.
Nutrition Information
Calories: 174
Fat: 5g
Protein: 2g
Carbohydrates: 34g
Fiber: 4g
Sugar: 20g
Vitamin A: 10% RDA
Vitamin C: 31% RDA
Vitamin K: 182% RDA
Calcium: 4% RDA
Iron: 6% RDA
If you try this nutritious green tea smoothie please leave a comment below. Happy Blending!