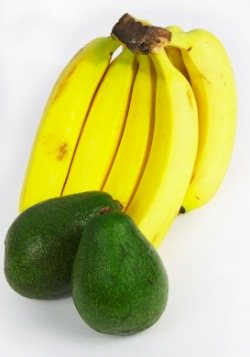 Treat yourself to this thick, creamy, nutritious, and delicious smoothie. Trust me, your taste buds will thank you :)
This smoothie contains two of my favorite thickeners, banana and avocado, making for one creamy smoothie. Add in a few berries and spices for a tasty treat you may need to spoon out of your blender it's so thick and creamy.
Here are the many health benefits this healthy smoothie imparts.
Antioxidants: the berries and banana offer plenty of free radical scavenging antioxidants.
Anti-Inflammatory: the avocado and the spices help reduce inflammation throughout the body.
Weight Loss: stay satiated for hours with this filling smoothie.
Good Eye: avocado, banana, and berries support the health of your eyes.
Good Heart: both avocado and banana provide cardiovascular protection.
Good Digestion: eliminate and assimilate (key nutrients) with ease.
Healthy Fat: the avocado provides all important healthy fat for your brain, skin, hair, nails and to stabilize blood sugar levels.
Healthy Bones: the nutrients in this smoothie combine to help build strong bones.
Anti-Cancer: the avocado, berries, and spices help prevent cancer.
There you have it, the epitome of a healthy smoothie. By incorporating one or more of the add-ons you can take the nutrition of this smoothie up another level or two.
I find the spices really add a nice flavor, and I used frozen blueberries if you're wondering. You may need to add a little more liquid if your blender isn't powerful enough to blend through this thick concoction. Enjoy!
Avocado Banana Berry Smoothie Recipe
The Ingredients
1 cup water
1 fresh or frozen banana
1/2 avocado, seed removed
1/2 cup fresh or frozen berries of your choice (blueberries, strawberries, raspberries, etc)
1/2 teaspoon cardamom
1/2 teaspoon allspice
The Add-ons
A little honey, maple syrup, or stevia to further sweeten
1 cup green leafy vegetable of choice
1 tablespoon flax or chia seeds
1 serving of your preferred protein powder
1 tablespoon maca
Show Time
Place the ingredients into your high speed blender and blend for around 30-45 seconds or until your desired consistency is reached.
Nutrition Information
Calories: 306
Fat: 15g
Protein: 4g
Carbohydrates: 45g
Fiber: 12g
Sugar: 21g
Vitamin C: 45% RDA
Vitamin K: 27% RDA
Calcium: 7% RDA
Iron: 8% RDA
Please leave a comment below if you try this tasty avocado banana berry smoothie. Happy Blending!