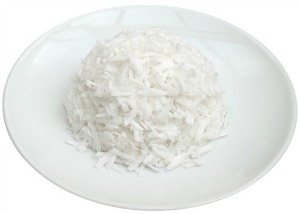 I have a confession to make, I'm addicted to coconut shreds.
Those sweetened little flakes of goodness don't last long in my kitchen. It seems every smoothie I make is a perfect candidate for their inclusion, and not just a tablespoon or two, but a good half cup. They add a little gritty, chewy, sweetness that I've come to love.
Coconut products are a staple in my smoothies, and diet. In case you aren't aware of their myriad health benefits, or just need a quick refresher, allow me to highlight this superfood with the following bullet points:
Monounsaturated fats found in coconut don't readily store as body fat, but rather burn up quickly for energy
Aids weight loss (how may fat native tropical islanders do you know?)
Excellent for skin and hair
Antibacterial, anti-fungal, antiviral
Supports a healthy heart
Boosts the immune system
Improves digestion and absorption of fat-soluble vitamins and amino acids
Good source of antioxidants
Boosts absorption of calcium and magnesium
Besides consuming copious amounts of coconut products, I also use coconut oil liberally on my skin, hair, and as an aftershave. Here's a quick recipe for you.
Combine 3 parts coconut oil with 1 part cacao butter using a double boiler with low heat. This makes for a great hair gel and aftershave. This concoction can also be used as a lotion, although it can be a bit oily, so you'll want to rub off after 20 minutes or so. Experiencing a little sun burn? Apply this mixture, or another of my favorite superfoods, aloe vera.
Fortunately, my local food co-op is usually stocked with organic coconut shreds and they're rather inexpensive. I prefer the thin shreds over the thicker flakes.
This smoothie is pretty basic (the ginger does add a nice zing); so I encourage you to incorporate a few of the suggested add-ons and/or anything you have on hand. I ended up adding coconut oil, maca, cacao powder, and protein powder to my smoothie. The result, a big party in my mouth :)
Now get your coconut on and enjoy this smoothie!
Coconut Ginger Smoothie Recipe
The Ingredients
1 cup young Thai coconut water or regular coconut water
1/2 avocado
1/4 cup coconut shreds or flakes
1/2 teaspoon ginger spice or fresh ginger, peeled and grated
A little honey, maple syrup, or stevia to sweeten (optional)
The Add-ons
1/2 tablespoon coconut oil
1/2 tablespoon cacao powder
Meat from a young Thai coconut
1 serving of your preferred protein powder
1/2 cup frozen blueberries
Show Time
Place the ingredients into your high speed blender and blend for around 30-45 seconds or until your desired consistency is reached.
Nutrition Information
Calories: 347
Fat: 28g
Protein: 5g
Carbohydrates: 24g
Fiber: 13g
Sugar: 9g
Vitamin A: 0% RDA
Vitamin C: 28% RDA
Calcium: 8% RDA
Iron: 11% RDA
Please leave a comment below if you try this delicious coconut ginger smoothie. Happy Blending!