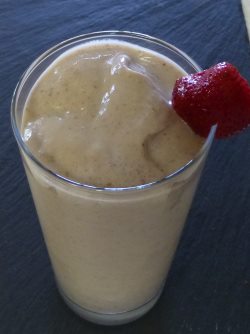 Go to the head of the class by fueling yourself with this delicious and nutritious smoothie!
I love to learn new things, especially regarding nutrition, and have embraced the idea of life-long learning. While I'm not currently attending a formal school, I often have to rush out the door in the morning. This is where smoothies are a life saver for me.
It's all too common for people to skip breakfast or grab something unhealthy and run out the door. Some days you may be that crunched for time. Most days you have 5-10 minutes to whip up a healthy smoothie that will set the tone for your entire day.
Whether you're going to school, work, or off to run errands, being properly fueled is paramount to performing at your best.
I noticed a big difference when I switched from Rice Krispies or Wheaties and milk to smoothies. Looking back I often wonder how I managed on such little nutrition for my body and brain.
Smoothies can also be a godsend for parents who need to create a quick meal for kids before scooting them off to school.
This recipe includes plenty of healthy fats to keep you satiated and nutrition for your brain to function at its best.
I included a few more optional add-ons than normal to take this smoothie in several different healthy directions. Enjoy!
Back To School Strawberry Smoothie Recipe
The Ingredients
1 cup raw milk or nut milk of choice
1/3 avocado
1 cup fresh or frozen strawberries
1 teaspoon coconut oil
1 tablespoon chia seeds or chia seed gel
1/4 teaspoon vanilla extract or powder
A dash of sea salt
A little honey, maple syrup, or stevia to sweeten (optional)
The Optional Add-ons
1 tablespoon peanut butter or other nut butter (for more protein)
1 cup spinach, kale, or other leafy green veggie
1/2 cup fresh or frozen blueberries (aka brain berries)
1 tablespoon cacao powder
1 tablespoon coconut shreds
1 tablespoon bee pollen, goji berries, maca, or other superfood
Show Time
Place all of the ingredients into your blender and blend for around 30-45 seconds or until nice and smooth.
Nutrition Information
Calories: 307
Fat: 23g
Protein: 6g
Carbohydrates: 25g
Fiber: 14g
Sugar: 9g
Vitamin A: 20% RDA
Vitamin C: 160% RDA
Calcium: 41% RDA
Iron: 16% RDA
I'd love to know if you try this back to school strawberry smoothie and how much your grades improved :) Please leave a comment below. Happy Blending!