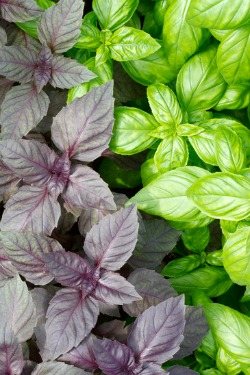 It's the time of year where I live when fresh produce is plentiful. I'm so grateful for the local farmers who grow my food with much care and love. Most of the ingredients I used in this smoothie are local and organic, just the way I like it.
Basil is one of the herbs I find myself adding to more and more smoothies because of the sweet, but savory flavor it lends. I'm also quite fond of its health benefits, which include anti-inflammatory and anti-bacterial properties, antioxidants, and cardiovascular support.
Basil is rich in vitamin K – just two teaspoons provide about 60% of your daily needs. Vitamin K is vital in building strong bones, supports a healthy heart, and contributes to proper brain function.
Regardless of the type of berries you choose for this recipe you're going to get more antioxidants, vitamins, and minerals. Combined with the other ingredients and you've got a signature healthy green smoothie.
If you haven't noticed, I've been including coconut oil in many of my smoothie recipes lately. I think it's important to get a healthy fat into the mix for a variety of reasons.
In case you're wondering, I used frozen local organic blueberries and purple basil. Enjoy!
Berry Basil Green Smoothie Recipe
The Ingredients
1 cup water
1 fresh or frozen medium banana
1 cup baby spinach
6-8 fresh basil leaves
1 cup fresh or frozen berries (blackberries, blueberries, raspberries, strawberries, or a combo)
1 tablespoon coconut oil
1/4 teaspoon cinnamon
A little honey, maple syrup, or stevia to sweeten (optional)
The Add-ons
1 tablespoon chia seeds, chia seed gel, or flax seeds
1 serving of your preferred green superfood powder
1 tablespoon coconut shreds or flakes
Any superfood(s) that you love
Show Time
Place all of the ingredients into your high-speed blender and blend for around 30-45 seconds or until nice and smooth. Note, if you don't have a very powerful blender you might want to blend everything except the coconut oil first, then drizzle it on and blend for another 5-10 seconds to avoid clumping.
Nutrition Information
Calories: 304
Fat: 15g
Protein: 3g
Carbohydrates: 46g
Fiber: 7g
Sugar: 26g
Vitamin C: 52% RDA
Vitamin K: 195% RDA
Calcium: 11% RDA
Iron: 11% RDA
I'd love to know if you tried this berry basil smoothie – please do tell in the comments below. Happy Blending!