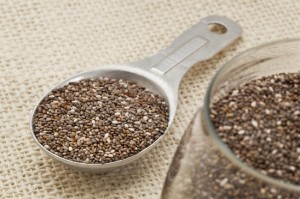 Oh, how I've come to love my little nutrient dense chia seeds. They're a great addition to many dishes, but perhaps best utilized in gel form to provide that signature smoothie creaminess.
This ancient seed is making a resurgence of sorts due to its myriad health benefits and versatility. Unless you've been living under a rock for the past decade, you know how important omega-3 fatty acids are for your health. Chia seeds are very rich in omega-3 fatty acids, and contain more than flax seeds. Chia seeds are also high in antioxidants, a characteristic that allows them to enjoy a long shelf life, unlike most seeds. And that's just the beginning of what this superfood has to offer.
Chia seeds contain about 20% protein, are a good source of fiber, and provide the body with calcium, magnesium, manganese, phosphorus, niacin, copper, iron, and zinc. This wonderful makeup results in the following health benefits:
Weight Loss: Dense, filling, low in calories, and help cleanse out old buildup in your intestines.
Increased Energy: Athletes and Mayan warriors have consumed chia seeds for centuries as an energizer.
Supports Brain and Heart Health: The essential fatty acids in chia are great for both your brain and heart.
Anti-inflammatory: Omega-3 fatty acids help lubricate your joints and keep them supple. Arthritis suffers have reported less pain after consuming chia seeds for a couple of weeks.

Blood Sugar Stabilizer: The time in which complex carbohydrates are digested and assimilated is slowed down by chia seeds.
Detoxification: Chia seeds absorb toxins while passing through the colon.
Besides smoothies, the versatile chia seeds can be used in spreads, salad dressings, ground and mixed with flour for baked goods, or simply sprinkled in yogurt, salads, and cereal. Lately, I've been using a chia seed gel for my smoothies.
To make chia seed gel, simply mix about 1 part chia seed to 1 part water in a small container. The gel will be ready in about twenty minutes. Store in the fridge and use in your smoothies for the next couple of months.
A lot of smoothies call for banana to provide thickness and creaminess. If you want to take a "banana break", chia seed gel is an ideal substitute.
This basic version of this smoothie is pretty simple, feel free to incorporate any of the add-ons I have listed below or anything else that sounds good to you. Enjoy!
Chocolate Chia Seed Smoothie Recipe
The Ingredients
1 cup milk of your choice (I used raw milk)
1/4 avocado
2 heaping tablespoons of chia seeds or chia seed gel
1 tablespoon cacao powder
1/4 teaspoon cinnamon
A dash of Celtic sea salt
1/2 tablespoon honey (could also use stevia or maple syrup to sweeten)
The Add-ons
1 tablespoon coconut oil
1/2 cup fresh or frozen berries
1 serving chocolate protein powder
1 tablespoon maca
Show Time
Add all the ingredients into your high speed blender and blend for around for 30-45 seconds or until the desired consistency is reached.
Nutrition Information
Calories: 368
Fat: 22g
Protein: 14g
Carbohydrates: 35g
Fiber: 10g
Sugar: 21g
Vitamin A: 6% RDA
Vitamin C: 9% RDA
Vitamin K: 145% RDA
Calcium: 42% RDA
Iron: 23% RDA
Please leave a comment below if you try this chocolate chia seed smoothie. Happy Blending!