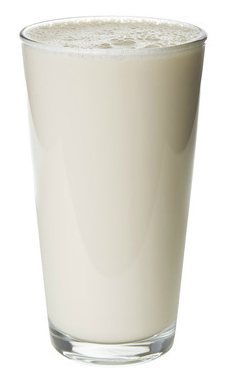 With all the chocolate smoothies I make, vanilla is a nice change of pace. Native to the tropical rain forests of Central America, vanilla is one of the more popular spices, now used around the world.
Vanilla is more than just a flavoring agent though and imparts its own unique health benefits. First, it combats free radicals through its high levels of antioxidants. The active compound in vanilla, aptly named vanillin, is a polyphenol that provides the antioxidant punch.
Vanilla contains small amounts of the minerals zinc, iron, calcium, magnesium, potassium, and manganese. There's also been studies showing vanilla's ability to alleviate anxiety and protect against cancer. Lastly, vanilla extract contains small amounts of B-complex vitamins, which include niacin, pantothenic acid, thiamin, riboflavin and vitamin B-6.
I often buy the whole vanilla bean, cut in half, scrape out the powder for use in my smoothies, and use the rest of the bean in teas. More concentrated, vanilla extract is also great for flavoring smoothies and other dishes.
This isn't your typical fruit and/or vegetable smoothie, but instead features chia seeds as the thickening and fibrous agent. I'll delve deeper into chia seeds and all their wonderful health benefits in the future. You can optionally use chia seed gel for this recipe, which you might not be familiar with. Chia seed gel is a mixture of about 1 part chia seed to 1 part water. Simply mix chia seeds and water in a small container. The gel will be ready in twenty minutes or less. Store in the fridge and use for a couple of months.
I hope your taste buds get a thrill out of this smoothie like mine :)
Vanilla Thrilla Smoothie Recipe
The Ingredients
1 cup milk of your choice (I used almond)
1/4 cup coconut flakes or shreds
2 heaping tablespoons chia seeds or chia seed gel
1 teaspoon pure vanilla extract or vanilla powder
1/2 teaspoon cinnamon
1 tablespoon organic honey (substitute maple syrup or stevia)
The Add-ons
1/2 tablespoon cacao powder or nibs (chocolate and vanilla go together beautifully)
1/3 avocado for a thicker, creamier smoothie
1 serving vanilla Sun Warrior protein powder
1 teaspoon coconut oil
A dash of Celtic sea salt
Show Time
Add all the ingredients into your high speed blender and blend for around for 30-45 seconds or until the desired consistency is reached.
Nutrition Information
Calories: 319
Fat: 20g
Protein: 5g
Carbohydrates: 32g
Fiber: 10g
Sugar: 19g
Vitamin A: 10% RDA
Vitamin C: 1% RDA
Calcium: 41% RDA
Iron: 20% RDA
Please leave a comment below if you try this vanilla thrilla smoothie. Happy Blending!