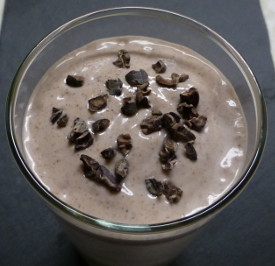 I'm back with another rich, creamy, nutrient-dense smoothie for all you nut lovers.
Trail mix has been my primary vehicle for consuming a variety of delicious and nutritious nuts. Lately, though, I've been sprinkling at least one nut into my smoothies to get more nourishing nuts into my diet.
Here are the health benefits of walnuts and the other star ingredient of this smoothie.
Walnuts are a nutrient dense nut that support a healthy heart, assist in maintaining your ideal weight, and are good for your brain, skin, and hair. They're also an antioxidant powerhouse, anti-cancerous, and provide anti-inflammatory action. Not too shabby for this little brain shaped nut.
High in fiber, vitamin C, and manganese, strawberries also support a healthy heart and impart antioxidant, anti-inflammatory, and anti-cancer properties along with helping to regulate blood sugar. Not bad for this little red burst of flavor.
I used extremely frozen strawberries and my smoothie turned out nice and thick. Enjoy!
Strawberry Walnut Smoothie Recipe
The Ingredients
1 cup almond milk or milk of choice
1/2 avocado
1/2 cup frozen strawberries
1/4 cup walnuts
1 tablespoon cacao nibs (blended and a few on top as garnish)
1/2 teaspoon vanilla extract or powder
A little honey, maple syrup, or stevia to sweeten (optional)
The Optional Add-ons
Additional 1/2 cup of strawberries
1/2 banana
1 tablespoon flax or chia seeds
1 cup spinach or kale to go green
Anything else healthy you have on hand
Show Time
Place all of the ingredients into your blender and blend for around 30-45 seconds or until nice and smooth.
Nutrition Information
Calories: 431
Fat: 37g
Protein: 8g
Carbohydrates: 21g
Fiber: 12g
Sugar: 7g
Vitamin A: 13% RDA
Vitamin C: 91% RDA
Calcium: 35% RDA
Iron: 11% RDA
I'd love to know if you try this strawberry walnut smoothie and how you liked it. Please leave a comment below. Happy Blending!