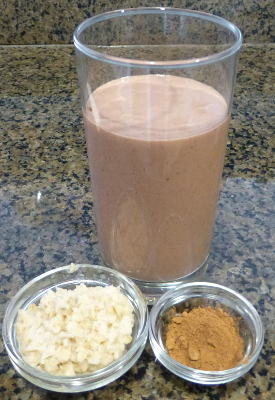 Start your day proper with this delicious and highly nutritious chocolate oatmeal smoothie. Yes, you can have chocolate for breakfast!
Oatmeal is a popular and healthy breakfast option. You can take your oatmeal to a whole new level of flavor and nutrition by blending with a few choice ingredients. One of those ingredients being one of my all-time favorites, cacao, or raw chocolate.
Before we get to the recipe let's take a look at some of the top health benefits of oatmeal:
Immune system booster
Full of antioxidants
Supports a healthy heart
Stabilizes blood sugar
Lowers cholesterol
High in fiber
Excellent source of magnesium
For maximum digestion and nutrient assimilation you must properly prepare your oats. Please don't skip this preparation. Here's a quick step by step for properly preparing your oatmeal:
Soak 1 cup rolled oats in 1 cup water and 2 tablespoons acid (lemon juice, liquid whey, apple cider vinegar, or yogurt) for about 8 hours. Soaking overnight is convenient.
Add another cup of water and 1/2 teaspoon sea salt to soaked oats, stir, heat to a low simmer, and cook for 5 to 10 minutes.
Consume with liberal amounts of butter and cream or toss into a smoothie.
To save time prepare 2-3 cups at once and refrigerate for use over the next week or two.
For those of you that don't know I have a serious weakness for chocolate. I just can't seem to keep it out of my smoothies no matter how hard I try :) Hope you enjoy this recipe as much as I do!
Chocolate Oatmeal Smoothie Recipe
The Ingredients
1/2 cup raw milk or nut milk of choice
1/2 cup rolled oats (soaked and cooked)
1/3 cup plain yogurt
1/2 cup raspberries
1 tablespoon cacao powder
1/2 teaspoon cinnamon
1/4 teaspoon vanilla extract or powder
1/2 tablespoon honey (substitute maple syrup or stevia)
The Add-ons
1/4 teaspoon nutmeg
1/2 tablespoon grass-fed butter
1/2 cup strawberries, blueberries, blackberries, or any other berry
Show Time
Place all of the ingredients into your blender and blend for around 30-45 seconds or until nice and smooth.
Nutrition Information
Calories: 372
Fat: 11g
Protein: 15g
Carbohydrates: 57g
Fiber: 10g
Sugar: 22g
Vitamin A: 5% RDA
Vitamin C: 28% RDA
Calcium: 28% RDA
Iron: 6% RDA
I'd love to know if you try this chocolate oatmeal smoothie and how you liked it. Please leave a comment below. Happy Blending!