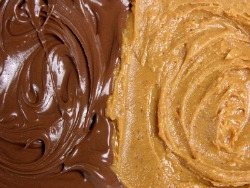 The ultimate combination, chocolate and peanut butter, in a smoothie! I almost named this Reese's Peanut Butter Cup smoothie, but that doesn't sound too healthy.
In order to keep smoothie making fun and exciting I often try to recreate the taste of a dessert or treat. For example, my Mint Chocolate Chip smoothie tastes pretty similar to my favorite ice cream.
One of my favorite treats growing up were Reese's peanut butter cups, which is the inspiration for this smoothie.
Taking otherwise unhealthy foods and creating their healthy counterpart is what it's all about. The healthy version usually tastes better after a few samplings because it's not loaded with chemical flavoring agents and other crapola!
This smoothie is pretty easy to make, and definitely tastes more chocolatey if you use a good chocolate protein powder. If not, a little cacao will still do the trick. I like to make this after a workout when I need protein, or as a hardy breakfast when I know I'll be skipping or eating a late lunch.
You can substitute any nut butter (almond works well) for the peanut butter if you'd like. Depending on your blender you may need to add a little more liquid. Enjoy!
Chocolate Peanut Butter Banana Smoothie Recipe
The Ingredients
1 cup of your preferred milk (I used almond)
1 fresh or frozen medium banana
2 tablespoons organic peanut butter
1 tablespoon cacao powder
1/2 tablespoon cacao nibs (optional)
1 serving Sun Warrior chocolate protein powder or your preferred protein
1/2 teaspoon cinnamon
A little honey, maple syrup, or stevia to sweeten (optional)
The Add-ons
1/2 tablespoon maca
1/2 tablespoon coconut oil
1 tablespoon coconut flakes or shreds
1/2 cup fresh or frozen berries of choice
Show Time
Place the ingredients into your high speed blender and blend for around 30-45 seconds or until your desired consistency is reached.
Nutrition Information
Calories: 451
Fat: 23g
Protein: 27g
Carbohydrates: 43g
Fiber: 10g
Sugar: 19g
Vitamin A: 10% RDA
Vitamin C: 17% RDA
Calcium: 34% RDA
Iron: 42% RDA
Please leave a comment below if you try this delicious chocolate peanut butter banana smoothie. Happy Blending!