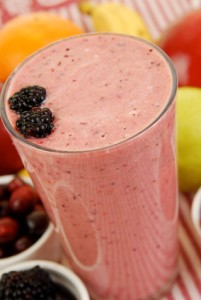 While grabbing a few bags of raspberries and blueberries from the freezer at Whole Foods yesterday I noticed frozen cranberries. It occurred to me that I've been neglecting this nutritious berry lately and thus snatched a couple bags with thoughts of blending them into my smoothie the next day.
The cranberries seemed to synchronistically come along as I was still doing a little detox work and eating lightly to "recover" after a mini-vacation. Something I like to do whenever I deviate from my normal eating habits for a couple of days to a week.
Cranberries are rich in vitamins and antioxidants, but perhaps best known from their cleansing powers. They help clear toxins and plaque buildup from the body by cleansing the organs involved in elimination and the lymphatic system.
Cranberries are also known for offering protection against urinary tract infections, supporting the immune system, benefiting the cardiovascular system, and for their anti-cancer properties. There's even a popular cranberry juice detox diet as a testament to their cleansing prowess.
Throw a little lemon into the mix and you've got a one-two cleansing punch.
This smoothie isn't overly filling, you could add a banana to beef it up, but is light and refreshing and helps things move along if you know what I mean.
Cleansing Cranberry Bliss Smoothie Recipe
The Ingredients
1 cup water
1/2 cup fresh or frozen cranberries
1 apple, cored and diced
1/2 lemon, peeled and seeded
1/3 avocado
1/2 teaspoon nutmeg
A little honey, maple syrup, or stevia to sweeten (optional)
The Add-ons
1/2 cup fresh or frozen blackberries
1 teaspoon coconut oil
1 tablespoon coconut flakes or shreds
Anything you have on hand that will boost the nutrition :)
Show Time
Place all the ingredients into your high speed blender and blend on high until the desired consistency is reached, usually around for 30-45 seconds.
Nutrition Information
Calories: 238
Fat: 11g
Protein: 2g
Carbohydrates: 40g
Fiber: 12g
Sugar: 22g
Vitamin A: 1% RDA
Vitamin C: 55% RDA
Vitamin K: 3% RDA
Calcium: 5% RDA
Iron: 8% RDA
Please leave a comment below if you try this blissful smoothie. Happy Blending!