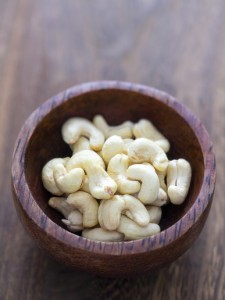 Besides being a great snack, cashews and cashew nut butter also blend will in smoothies and provide a rich creamy consistency. Like any healthy food, the more ways you find to integrate it into your diet the more you'll consume, and the healthier you'll be :)
Cashews are one of the healthier nuts you can consume. They are rich in copper, manganese,  tryptophan, magnesium, phosphorus, and healthy fats. The monounsaturated fats found in cashews promote good cardiovascular health in tandem with magnesium and antioxidants. Here are 6 other health benefits attributed to cashews:
Skin and hair health
Strong bones
Weight loss
Good for the nerves
Cancer prevention
Gallstone prevention
Note, you can substitute cashew nut butter for cashews and get the same creamy result. I recently purchased a pound of raw, organic cashews from the bulk section at Whole Foods for my homemade trail mix, but so far most of them have gone into my smoothies this week. They can be addictively good!
Creamy Cashew Smoothie Recipe
The Ingredients
1 cup almond or coconut milk
1/3 cup cashews (preferably raw and organic)
1 fresh or frozen banana
A dash of cinnamon
A dash of high quality salt, i.e., Celtic sea salt
The Add-ons
1 tablespoon flax seeds or ground flax seed
1 tablespoon coconut oil
1/2 cup fresh or frozen berries
Show Time
Place all of the ingredients into your blender and blend on high until the desired consistency is reached, usually around for 30-45 seconds.
If you try this creamy cashew smoothie please leave a comment below and tell me all about it. Happy Blending!