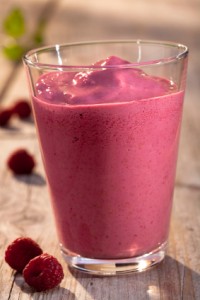 This is another one of those ridiculously delectable smoothies that I must remind myself is as healthy as it tastes good. If you occasionally have sugar and/or chocolate cravings like I do, treat your sweet tooth with this delicious and satisfying smoothie without feeling an ounce of guilt. This chocolate raspberry smoothie also makes for a healthy dessert and is sure to be a hit!
It's hard to top the chocolate-raspberry combination. Add a little banana and coconut oil into the mix and you've got all of your nutritional bases covered. The fruit and cacao provide plenty of antioxidant power along with vitamins and minerals such as potassium, magnesium, vitamin C, manganese, and fiber.
A good healthy fat like coconut oil is vital to great health. Think healthy skin, hair, heart, and immune system, weight loss and good digestion. If you supply your body with ample amounts of good fats, it has no need to store excess fat because you're sending the signal that hunting season is good.
If you don't have cacao powder or nibs, you could use a chocolate protein powder to flavor, or make this smoothie minus the chocolate. It will still taste delicious! I ended up using a little Greek yogurt the last time I made this and it turned out extra creamy. Enjoy!
Chocolate Raspberry Smoothie Recipe
The Ingredients
1 cup milk of your choice (I opted for raw milk)
1 cup fresh or frozen raspberries
1/2 fresh or frozen medium banana
1 tablespoon cacao powder
1/2 tablespoon cacao nibs (optional)
1/2 tablespoon coconut oil
A dash of sea salt
The Add-ons
1/4 cup cashews
A dash of vanilla
1/4 cup Greek yogurt
1 serving of your preferred chocolate protein powder
Show Time
Place all of the ingredients into your blender and blend away (usually 30-45 seconds) until the desired consistency is reached.
Nutrition Information
Calories: 280
Fat: 13g
Protein: 8g
Carbohydrates: 38g
Fiber: 11g
Sugar: 19g
Vitamin A: 3% RDA
Vitamin C: 62% RDA
Calcium: 19% RDA
Iron: 9% RDA
If you try this chocolate raspberry smoothie please leave a comment below and tell me all about it. Happy Blending!