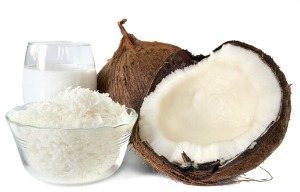 This smoothie is for all the coconut lovers out there, myself included. Coconut products such as coconut water and coconut oil are rising in popularity due to the increased awareness of all their wonderful health benefits.
Part of my inspiration for this recipe was an article I came across on Australian supermodel Miranda Kerr, who revealed her love of coconut oil. She takes four tablespoons a day. To some that may seem extreme, but for those in the know, it's a healthy habit.
I personally consume copious amounts of coconut oil like Miranda, and cook almost exclusively with it.
Here are some of the myriad reasons and health benefits that make coconut a legitimate superfood:
Helps with weight loss by increasing metabolism
Great for skin and hair (internally and topically)
Provides long lasting energy
Improves digestion and absorption of fat-soluble vitamins and amino acids
Supports a healthy immune system by helping ward off viruses, bacteria, and fungal overgrowth
Antioxidants in the form of raw saturated fats and oils
Regulates and supports healthy hormone production
Boosts absorption of calcium and magnesium
Supports cardiovascular health
Medium chain fatty acids in coconut oil support the immune system, thyroid gland, nervous system, and skin
Coconut oil and omega-3 fatty acids are twice as effective when taken together
Coconut water is extremely rich in electrolytes
Coconut oil has been used to treat Alzheimer's Disease
There you have it, coconuts are the bomb! If you want more information on this miraculous food, check out my article: The Numerous Health Benefits of Coconuts and Coconut Oil.
I had this smoothie for breakfast and it kept me satiated well past my normal lunch time. Feel free to use a banana instead of an avocado to thicken. Enjoy!
Creamy Coconut Smoothie Recipe
The Ingredients
1 cup coconut water
1/2 avocado, seed removed
1/2 cup fresh or frozen blueberries
1 tablespoon coconut shreds/flakes
1 teaspoon coconut oil
1/4 teaspoon cinnamon
1/2 tablespoon honey to sweeten
The Add-ons
1 cup spinach or kale (creamy coconut green smoothie)
1 tablespoon cacao nibs and/or powder
1 tablespoon maca
1 serving of your preferred protein powder
1 serving of your go to green superfood powder
Show Time
Place all of the ingredients into your blender and blend for around 30-45 seconds or until your desired consistency is achieved.
Nutrition Information
Calories: 353
Fat: 23g
Protein: 5g
Carbohydrates: 38g
Fiber: 12g
Sugar: 23g
Vitamin A: 1% RDA
Vitamin C: 38% RDA
Calcium: 8% RDA
Iron: 9% RDA
Let me know what you think of this creamy coconut smoothie by leaving a comment below. Happy Blending!