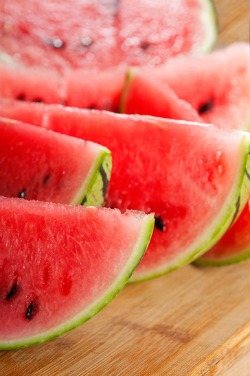 I'm back with another smoothie that I consider a mild detoxifier. It's my belief that if you routinely consume foods and herbs that help the body detox, you don't need to engage in extreme detox protocols or diets such as the master cleanse or olive oil liver flushes very often, if at all.
It's also nice when you can detox by drinking a smoothie that doesn't force you to gag when taking :)
Here's how the primary detoxifiers in this recipe, watermelon and dandelion greens, aid the body in eliminating undesirables, which will reenergize your body, help shed excess weight, and improve your overall health.
Your yummy, hydrating watermelon is particularly good at cleansing the liver and kidneys, and is also a great whole body cleanser. This combination of cleansing and hydration is great for your complexion and skin. Watermelon's high water content and low amounts of sugar and sodium have a slimming effect.
Dandelion greens are considered by many to be the king of the cleansing greens. They help the liver and kidneys rid the body of toxins. Dandelion greens also support proper digestion and their diuretic and laxative effects aid in the elimination of toxins. Dandelion greens are also nutrient dense, containing high amounts vitamins, minerals (especially calcium), and antioxidants.
They are rather bitter, unless picked early in the spring, which is why I like to "hide" dandelion greens in my green smoothies. If you're new to dandelion greens and green smoothies in general, you may want to use 1/2 cup dandelion greens and 1/2 cup spinach to reduce the bitterness. It's sort of an acquired taste in my opinion. Enjoy!
Watermelon Dandelion Greens Detox Smoothie Recipe
The Ingredients
1/2 cup water
1 cup fresh seeded watermelon
1 fresh or frozen medium banana
1 cup dandelion greens, chopped
Juice from 1/2 lime
1/4 teaspoon cinnamon
A little honey, maple syrup, or stevia to sweeten (optional)
The Add-ons
1/2 teaspoon turmeric
1/2 tablespoon fresh ginger, grated
Juice from 1/2 lemon
Show Time
Place the ingredients into your high-speed blender and blend for around 30-45 seconds or until your desired consistency is reached.
Nutrition Information
Calories: 182
Fat: 1g
Protein: 4g
Carbohydrates: 45g
Fiber: 6g
Sugar: 25g
Vitamin A: 131% RDA
Vitamin C: 81% RDA
Vitamin K: 537% RDA
Calcium: 13% RDA
Iron: 14% RDA
I'd love to hear what you think of this watermelon dandelion greens detox smoothie – please leave a comment below. Happy Blending!