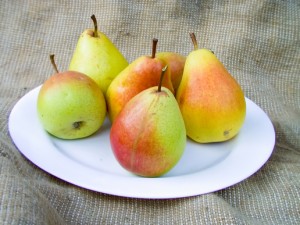 Treat yourself to this easy to make green smoothie that packs plenty of nutrition. If you're new to green smoothies, this is a good one to start with. If you're a smoothie veteran, start with the basic version of this recipe and get creative with the add-ons to build your own nutrient dense tasty green treat.
The ingredients in this smoothie offer much in the way of nutrition. Let's first explore what pear can do for you.
Pears are high in fiber, vitamin C, and vitamin K. The latter two nutrients along with copper help squash free radicals via their antioxidant properties. The fiber found in pears supports cardiovascular and colon health. Pears are also Hypo-Allergenic.
Ginger is well known for aiding digestive issues, such as heartburn, nausea and vomiting, especially in pregnant women. As a potent anti-inflammatory, ginger can help reduce pain caused by inflammation. Ginger also boosts the immune system, helping prevent and eliminate a cold or flu, protects against certain cancers, and offers relief for migraine sufferers.
Good old baby spinach is my favorite green smoothie veggie because it's so easy to blend and doesn't overpower the taste of my smoothie like some bitter greens. Spinach is loaded with phytonutrients that offer the following health benefits: anti-inflammatory, antioxidant, anti-cancer, helps build strong bones, and is good for digestion.
Flax seeds are a good source of the all important omega-3 essential fatty acids, which are vital for a healthy cardiovascular system. Flax seeds are high in fiber, thus support good digestive health. They also provide anti-inflammatory, antioxidant, and anti-cancer benefits.
These four ingredients along with a little organic honey make this one healthy smoothie. Enjoy!
Ginger Pear Green Smoothie Recipe
The Ingredients
1 cup water
1 medium pear, peeled and cored
1 cup baby spinach
1 tablespoon flax seeds or flax seed meal
1 teaspoon coconut oil
1/4 inch ginger, peeled and minced (or grated)
1/2 tablespoon honey to sweeten
The Add-ons
1 apple, peeled and cored
1/2 cup fresh or frozen berries
Any superfood you desire – such as cacao, maca, bee pollen, or spirulina.
Show Time
Add all the ingredients into your high speed blender and blend for around for 30-45 seconds or until the desired consistency is reached.
Nutrition Information
Calories: 217
Fat: 8g
Protein: 3g
Carbohydrates: 39g
Fiber: 8g
Sugar: 26g
Vitamin A: 9% RDA
Vitamin C: 27% RDA
Vitamin K: 191% RDA
Calcium: 7% RDA
Iron: 9% RDA
Please leave a comment below if you try this ginger pear green smoothie. Happy Blending!