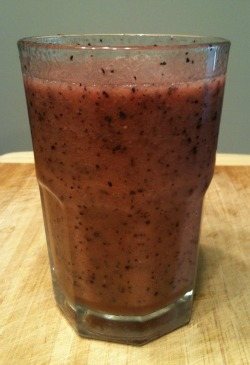 This recipe was inspired by a recent question I received from one of my twitter followers, Terri. She asked if I had any detox smoothie recipes that didn't seem so disgusting.
Whether or not a smoothie is delicious or disgusting is subjective. Nevertheless, I set out to create a detox smoothie that I thought would appeal to Terri, and a wider audience. I also decided to hold off a while before posting a detox smoothie recipe featuring clay :)
Nothing is quite like watermelon on a hot summer day, which is the primary ingredient of this smoothie. Watermelon is a great whole body cleanser, and particularly effective at cleansing the kidneys and liver. Cleaning out the toxins currently present in these organs frees them up to properly clear toxins in the future. It's a win-win. There are even 3-day watermelon detox diets for those that really want to push the envelope.
Next, we have ginger, well known as a digestive aid, but also great for purging toxins from the body. As with watermelon, lemon juice also helps detoxify the liver. Frozen blueberries made their way into this smoothie not because they're great cleansers, but for all their good nutrition. Rounding things out is a dash of sea salt for some added minerals.
Smoothies like this are a great way to do light detox work on an ongoing basis.
If you're experiencing a heat wave like we are this summer in Michigan, this slushie like smoothie is perfect for cooling you off. Enjoy!
Ginger Watermelon Detox Smoothie Recipe
The Ingredients
2 cups fresh seeded watermelon
1 teaspoon fresh ginger, grated
Juice from 1/2 lime (or 1/2 lemon or both)
1/2 cup frozen blueberries
A dash of Celtic Sea salt
4-8 ice cubes
The Add-ons
Juice of 1/2 lemon
1/2 cup fresh or frozen raspberries
1 cup spinach or kale to green
Show Time
Place the ingredients into your high speed blender and blend for anywhere from 30-45 seconds – or until the desired consistency is reached.
Nutrition Information
Calories: 142
Fat: 1g
Protein: 3g
Carbohydrates: 36g
Fiber: 3g
Sugar: 27g
Vitamin A: 6% RDA
Vitamin C: 65% RDA
Calcium: 3% RDA
Iron: 10% RDA
Let me know what you think of this tasty ginger watermelon smoothie by leaving a comment below. Happy Blending!