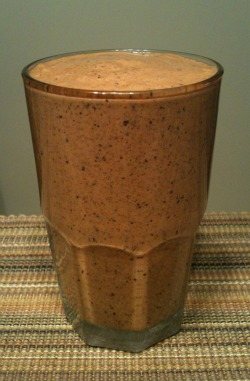 I love fruit and green smoothies as much as the next person, but superfood smoothies are by far my favorite. A smoothie for breakfast full of real superfoods never fails to put me a good mood, with plenty of energy, and a positive, up-beat attitude for the entire day.
Superfood smoothies ensure I have the best day ever :)
This smoothie features three of my all-time favorite superfoods, goji berries, cacao (raw chocolate), and maca. Almond/Coconut milk, frozen blueberries, banana, Sun Warrior chocolate protein, and a dash of sea salt round out this nutrient dense recipe. So, what's so special about each of these superfoods?
Goji berries are rich in antioxidants, boost immune function, are a complete protein source (contain 19 different amino acids and all 8 essential amino acids), contain numerous trace minerals, help to improve blood quality and eyesight, increase alkalinity and vitality, and are widely known for their longevity and anti-aging properties. Consuming a small handful a day of these tasty berries will surely benefit your health. I like to make teas with them and sprinkle on salads.
Cacao is also an antioxidant powerhouse, with more antioxidants per weight that goji and blueberries. It's great for you brain and heart, rich in magnesium and vitamin C, both of which most people don't get nearly enough of. The amino acid tryptophan, used by the body to produce the neurotransmitter serotonin (nature's feel good chemical) is perhaps cacao's top attribute.
The last superfood this recipe calls for is Maca. Best known as an energy tonic and for improving sex drive and fertility, it's loaded with vitamins, supports the immune system, and can help alleviate migraine headaches. Maca is also a potent adaptogen, so it can help the body adapt to and deal with stress and other issues. For the full download, see my post on the history and myriad health benefits of maca.
As you can see, these superfoods impart a great deal of nutrition and health promoting properties, hence the name superfoods :)
I hope you enjoy this smoothie and have the best day ever!
Note, you may need to add a little more milk if using frozen banana and/or your blender isn't powerful enough. My smoothie was quite thick. Enjoy!
Goji-Cacao-Maca Superfood Smoothie Recipe
The Ingredients
1 cup almond milk (substitute your preferred milk)
1/4 cup goji berries
1 tablespoon cacao powder
1 tablespoon maca powder
1/2 cup frozen blueberries
1 fresh or frozen banana
A dash of Celtic Sea salt
1 serving chocolate Sun Warrior protein (optional)
The Add-ons (More Superfoods)

1 tablespoon coconut oil
1 tablespoon bee pollen
Any other superfood(s) you have on hand
Show Time
Place the superfoods and other ingredients into your blender and blend for anywhere from 30-45 seconds – or until the desired consistency is reached.
Nutrition Information
Calories: 322
Fat: 5g
Protein: 8g
Carbohydrates: 67g
Fiber: 12g
Sugar: 38g
Vitamin A: 112% RDA
Vitamin C: 47% RDA
Calcium: 44% RDA
Iron: 24% RDA
Let me know what you think of this delicious goji-cacao-maca superfood smoothie, and what additional superfoods you used, by leaving a comment below. Happy Blending!