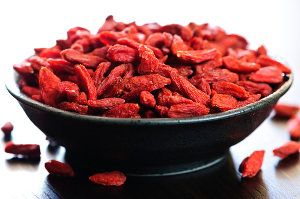 When I first stumbled upon goji berries several years ago I couldn't believe how delicious they were considering the nutritional punch they pack. Goji's put the "super" in superfood. Not only are they great on their own, in salads, trail mixes, and teas, but – you guessed it – in smoothies!
Goji berries have become quite popular in the world of health and nutrition, and for good reason. Considered a superior Chinese tonic herb, these little guys are pure nutrition. Here are a few reasons why consuming goji berries on a regular basis is in everyone's best interest.
Antioxidant powerhouse
Complete protein – contain 19 different amino acids and all 8 essential amino acids
Trace minerals galore
Longevity and Anti-Aging superfood
Boost immune function
Increase alkalinity and vitality
Improve eyesight and blood quality
Stimulate the body to produce more HGH naturally
Adaptogen
For more information, click here to read my article on this lovely superfood.
When people ask me how they can start eating healthier, goji berries are one of the first foods I recommend. Most kids approve of them as well, and we all know getting kids to eat healthy can sometimes be a challenge. If you enjoy goji berries even half as much as I do you'll love this smoothie recipe.
Go-Go Goji Berry Smoothie Recipe
The Ingredients
1 cup water
1 fresh or frozen medium banana
1/2 cup fresh or frozen berries (blueberries, raspberries, strawberries, etc)
1/4 cup goji berries
A little honey, maple syrup, or stevia to sweeten (optional)
The Add-ons
1/2 tablespoon cacao powder or nibs (chocolate goes great with goji berries)
1 teaspoon coconut oil
1 tablespoon chia seeds or chia seed gel
Show Time
Place the ingredients into your high speed blender and blend for 30-45 seconds or until desired consistency is reached.
Nutrition Information
Calories: 220
Fat: 2g
Protein: 4g
Carbohydrates: 52g
Fiber: 7g
Sugar: 31g
Vitamin A: 160% RDA
Vitamin C: 69% RDA
Calcium: 2% RDA
Iron: 14% RDA
Please leave a comment below if you try this go-go goji berry smoothie. Happy Blending!