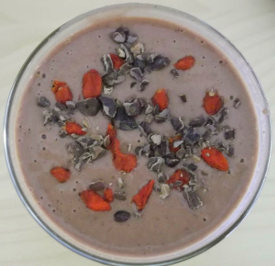 Banish those free radicals with this flavorful and highly nutritive superfood smoothie that's loaded with antioxidants.
Free radicals are those nasty little molecules that can cause damage to your DNA. This damage, as it accumulates, can create all kinds of problems, from premature aging to cancer.
Antioxidants are compounds that destroy free radicals before they have the chance to harm you. The primary superfoods in this recipe, acai and cacao, are antioxidant powerhouses.
Acai berries have more antioxidants than nearly all other foods with high levels of these helpful compounds, including red wine, blueberries, blackberries, and raspberries. The antioxidants found in acai fruits are called anthocyanins and flavonoids.
Cacao beans contain even more antioxidants than acai. The high level of flavonoids in cacao is one of the main reasons why it's so nutritious.
Most of the other ingredients in this recipe are also high in antioxidants, in particular goji berries and bee pollen.
All the credit for this divine concoction goes to fellow smoothie expert, Ana. During our email exchanges about smoothies and all things healthy she's been kind enough to share some of her stellar recipes with me, and you. Enjoy!
Antioxidant Acai Cacao Smoothie Recipe
The Ingredients
1 cup coconut water
1/4 avocado
1/3 cup yogurt
1/2 cup fresh or frozen strawberries
1 tablespoon almond butter or a handful of raw almonds
1 tablespoon goji berries (blended or sprinkled on top)
1 tablespoon cacao powder
1/2 tablespoon cacao nibs (blended or sprinkled on top)
1 teaspoon chia seeds
1 teaspoon bee pollen
1 teaspoon acai powder
1/4 teaspoon cinnamon
A dash of Himalayan salt or sea salt
A little honey, maple syrup, or stevia to sweeten (optional)
The Add-ons
1 serving of your preferred protein powder
1 tablespoon coconut flakes or shreds
1 teaspoon coconut oil
Show Time
Place all the ingredients into your high-speed blender and blend for around 30-45 seconds or until nice and smooth.
Nutrition Information
Calories: 393
Fat: 23g
Protein: 14g
Carbohydrates: 41g
Fiber: 15g
Sugar: 21g
Vitamin A: 39% RDA
Vitamin C: 101% RDA
Calcium: 34% RDA
Iron: 25% RDA
I would love to know if you try this antioxidant acai cacao superfood smoothie and how you liked it. Please leave a comment below. Happy Blending!