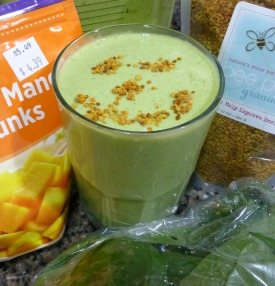 I admit it, I'm addicted! Addicted to superfood smoothies. I like to think of it as a healthy addiction :)
Not only do I love the taste, how I feel after drinking, and the health benefits, tossing a variety of superfoods into my blender is flat out fun. Thankfully, I'm not the only one who share's this passion.
When I bump heads with a fellow superfood smoothie maker recipes like this ensue. This recipe was inspired by my friend, Ian, a seasoned superfood smoothie maker himself.
He sent me one of his latest concoctions, which I made slight modifications to, something I encourage everyone do to. Think of the recipes on my site as templates you can take and make your own. Tailor them to meet your personal health goals.
The name of this smoothie, which is cool and original, gives away one of its main ingredients, banana. I've touched on the health benefits of bananas, and every other ingredient in this recipe in prior posts. For now just know that the combination of ingredients in the smoothie delivers a tremendous amount of nutrition. Enough to ensure you have the best day ever!
If you don't have all the ingredients to make this smoothie, no worries, work with what you have.
As you can see in the picture, I opted to sprinkle the bee pollen on after blending. Reminds me of sprinkles on ice cream. Enjoy!
Bananarama Smoothie Recipe
The Ingredients
1 and 1/2 cups almond milk (preferably homemade)
1 fresh or frozen banana
1 cup spinach
1/2 cup fresh or frozen mango chunks
1/2 cup fresh or frozen strawberries
2 tablespoons Greek yogurt
1 tablespoon coconut oil
1 tablespoon chia seeds or chia seed gel
1 teaspoon bee pollen
The Add-ons
A little honey, maple syrup, or stevia to sweeten
1 cup kale
1 tablespoon hemp seeds
1 tablespoon Gelatin or your preferred protein powder
Any other healthy ingredients or superfoods you have on hand
Show Time
Place all the ingredients into your high-speed blender and blend for around 30-45 seconds or until nice and smooth. Note, if you don't have a very powerful blender you might want to blend everything except the coconut oil first, then drizzle it on and blend for another 5-10 seconds to avoid clumping.
Nutrition Information
Calories: 493
Fat: 25g
Protein: 12g
Carbohydrates: 63g
Fiber: 13g
Sugar: 32g
Vitamin C: 197% RDA
Vitamin K: 189% RDA
Vitamin D: 68% RDA
Calcium: 64% RDA
Iron: 24% RDA
I'd love to know if you try the bananarama superfood smoothie – please leave a comment below. Happy Blending!