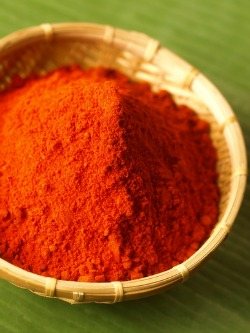 Every once in a while I find myself in the mood for a hot and spicy smoothie. In order to heat up my smoothies I simply add a little chili powder or cayenne pepper.
If you haven't tried a hot smoothie, I encourage you to give it a whirl. Besides being a nice change of pace, spices such as chili powder offer their own unique health benefits.
Chili powder is rich in vitamins A and C. Vitamin A supports your eyesight and the health of your bones, teeth, and skin. Vitamin C is a potent antioxidant, boosts your immune system, and helps in recovery from injury. Chili powder is also rich in the minerals potassium, phosphorus, calcium, and iron and contains a little zinc, manganese, and selenium.
As an anti-inflammatory, chili powder can bring relief to achy joints as well as arthritic swelling and pain. Chili powder has also been shown to support a healthy cardiovascular system, clear congestion, help with blood sugar, and act as a natural pain reliever.
Don't just spice up your smoothies, sprinkle a little chili powder into other dishes for more pronounced health benefits.
Not a fan of hot and spicy? Simply omit the chili powder and enjoy a delicious and highly nutritious green smoothie.
This recipe call for 1/4 teaspoon of chili powder, which isn't a lot, if you really like it hot use up to 1 teaspoon or more. Enjoy!
Hot and Spicy Green Smoothie Recipe
The Ingredients
1 cup water
1/2 medium avocado
1 cup baby spinach (or kale)
1/2 cup fresh or frozen blueberries
1 tablespoon chia seeds or chia seed gel
1/2 tablespoon coconut oil
1/4 teaspoon chili powder
1/2 tablespoon honey
The Add-ons
1 tablespoon coconut flakes or shreds
1 serving of your preferred protein or green superfood powder
1 tablespoon maca and/or cacao
1/4 cup Greek yogurt
Show Time
Place all of the ingredients into your high-speed blender and blend for around 30-45 seconds or until nice and smooth.
Nutrition Information
Calories: 338
Fat: 24g
Protein: 5g
Carbohydrates: 32g
Fiber: 12g
Sugar: 16g
Vitamin A: 11% RDA
Vitamin C: 43% RDA
Vitamin K: 292% RDA
Calcium: 10% RDA
Iron: 16% RDA
I'd love to know if you tried this hot and spicy green smoothie – please do tell in the comments below. Happy Blending!