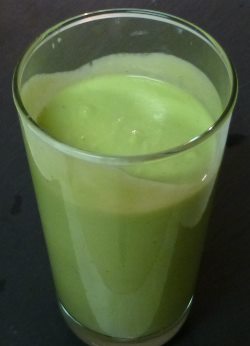 Who else loves dessert in a glass?
Key lime pie is probably my favorite non-chocolate dessert. This recipe is my best approximation of this tasty treat made with nothing but healthy ingredients.
While perusing several key lime pie recipes on the internet I was disappointed to see most included large amounts of refined white sugar. No thanks!
The key ingredient, no pun intended, to this recipe is obviously lime, which imparts the following health benefits:
High in free radical scavenging antioxidants
Rich in vitamin C
Aids digestion
Detoxification though liminoids promoting activity of liver detoxing enzymes
Supports healthy skin (when consumed orally or applied externally)
Supports a healthy heart
Combine lime with a cup of healthy milk, healthy fat containing avocado, spinach, and a few other ingredients and you've got one healthy dessert smoothie!
I drank about half of this smoothie after dinner and made popsicles with the rest. Popsicles are another fun way to enjoy dessert (or any) smoothies. Enjoy!
Key Lime Pie Smoothie Recipe
The Ingredients
1 cup raw milk or nut milk of choice
1/2 avocado
1 lime, peeled
Zest of 1 lime
1/2 cup baby spinach
1/2 teaspoon vanilla extract
A dash of sea salt
1/2 tablespoon honey to sweeten
The Optional Add-ons
1-2 tablespoons graham cracker crumbs as garnish
1-2 tablespoons toasted coconut shreds as garnish
1/2 cup spinach for more green action
1 teaspoon coconut oil
Show Time
Place all of the ingredients into your blender and blend for around 30-45 seconds or until nice and smooth.
Nutrition Information
Calories: 341
Fat: 22g
Protein: 10g
Carbohydrates: 34g
Fiber: 9g
Sugar: 19g
Vitamin A: 36% RDA
Vitamin C: 56% RDA
Calcium: 18% RDA
Iron: 12% RDA
I'd love to know if you try this key lime pie smoothie and what you thought. Please leave a comment below. Happy Blending!