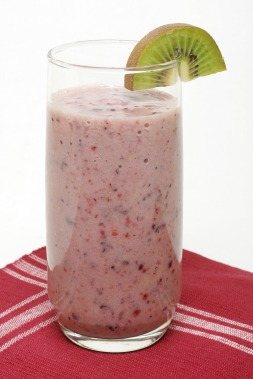 Oh man is that good! That's exactly what ran through my head after a big gulp of this smoothie. Kiwi, strawberry, and banana are a match made in smoothie heaven.
This smoothie is perfect on a hot summer day, for dessert, for those picky kids, or as a healthy snack or meal. The incredible taste will have your taste buds jumping for joy while your body gets a healthy dose of nutrients. Before I get to the actual recipe, let's take a quick look at the health benefits attributed to kiwis, strawberries, and bananas.
The high amount vitamin C present in kiwis offers much in the way of antioxidant protection. Kiwis are also a good source of dietary fiber and potassium and contain trace amounts of other minerals and vitamins.
Like kiwis, strawberries are rich in vitamin C, dietary fiber, and potassium, but also contain ample amounts of manganese, folate, iodine, magnesium, and vitamin K. These nutrients lead to the reduction inflammation, good eye health, cardiovascular protection, anti-cancer properties, and promote strong, healthy bones.
The good old banana contains many of the same nutrients as strawberries and kiwis. Bananas support a healthy digestive tract with proper elimination, good cardiovascular health, bone health, eye health, and help prevent cancer.
Each of these ingredients is great on its own, but combined makes for one healthy smoothie. I made this smoothie after being out in the sun for a couple of hours. It cooled me right off. Try using frozen ingredients and/or ice for a "cooler" smoothie. Enjoy!
Kiwi Strawberry Banana Smoothie Recipe
The Ingredients
1 cup water
1 kiwi, peeled and halved
1 cup fresh or frozen strawberries
1 fresh or frozen medium banana
1 teaspoon coconut oil
4-6 ice cubes
The Add-ons
1/2 cup frozen blueberries
1/4 cup of yogurt
1 tablespoon chia seeds or chia seed gel
1 cup spinach or kale (go green)
Show Time
Load the ingredients into your high speed blender and blend for anywhere from 30-45 seconds – or until the desired consistency is reached.
Nutrition Information
Calories: 233
Fat: 6g
Protein: 3g
Carbohydrates: 48g
Fiber: 8g
Sugar: 28g
Vitamin C: 265% RDA
Vitamin K: 40% RDA
Calcium: 6% RDA
Iron: 6% RDA
Please leave a comment below if you try this kiwi strawberry banana smoothie. Happy Blending!