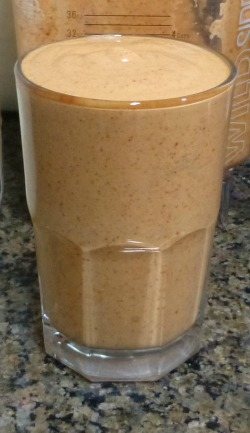 Are you looking for a protein-packed smoothie that doesn't call for a supplement or powder, just natural protein from the ingredients?
If you search for protein smoothies around the web you'll find most of them call for some sort of protein powder. Not that there's anything inherently wrong with a good protein supplement (I recommend Sun Warrior and a few whey based ones), but some people would rather get their protein from whole foods and/or don't want to shell out the cash for a high quality product. I'm starting to lean this way myself.
Part of the inspiration for this smoothie came from a brief conversation I had in the comments of a recent recipe, Greek Yogurt Smoothies. The commenter indicated not wanting to use protein powders and how he was able to craft protein rich smoothies without.
Here's a quick run down of the ingredients that comprise this protein rich, yet powder and supplement free smoothie.
Kefir: Very rich in protein. Exactly how much is hard to say because of many factors, including whether it was store bought or made at home, what kind of milk was used, and how long it was fermented.
Avocado: They don't contain a substantial amount of protein, but do have the highest protein content of any fruit.
Greek Yogurt: A typical 6-ounce serving (3/4 cup) contains between 15 and 20 grams. This is the equivalent to the amount of protein in in 2 to 3 ounces of lean meat.
Chia Seeds: A one ounce serving of chia seeds contains about 4 grams of protein.
Goji Berries: The highest protein content of any berry, 1/4 cup serving of goji's contains about 4 grams of protein.
Gelatin: A relatively new smoothie ingredient for me, gelatin is pure protein with an impressive amino acid profile. One amino acid in particular it's rich in, glycine, assists the liver with detoxification. The best gelatin for my money is the Bernard Jensen 100% Pure Gelatin, which you can find on Amazon. It contains 12 grams of protein per serving (1 tablespoon).
By combining all of these moderate to high protein ingredients you get a nice, natural protein-packed smoothie. Of course you can always add your favorite protein powder if you'd like. Enjoy!
Natural Protein Smoothie Recipe
The Ingredients
1 cup kefir (or 50/50 kefir and milk, preferably raw milk)
1/2 avocado
1/2 cup plain Greek yogurt
1 tablespoon chia seeds or chia seed gel
1/4 cup goji berries
1 tablespoon gelatin
1 teaspoon coconut oil
1/4 teaspoon cinnamon
A little honey, maple syrup, or stevia to sweeten (optional)
The Add-ons
1 cup spinach or kale (go green)
1/2 cup fresh or frozen berries
1 tablespoon spirulina (another protein rich superfood that's about 65-70% protein by dry weight)
Show Time
Place all of the ingredients into your high-speed blender and blend for around 30-45 seconds or until nice and smooth. If you don't have a very powerful blender and your coconut oil is in liquid form, you might want to blend everything except the coconut oil first, then drizzle it on and blend for another 5-10 seconds to avoid clumping.
Nutrition Information
Calories: 631
Fat: 43g
Protein: 29g
Carbohydrates: 35g
Fiber: 11g
Sugar: 19g
Vitamin A: 99% RDA
Vitamin C: 42% RDA
Calcium: 53% RDA
Iron: 17% RDA
I'd love to know if you tried this natural protein smoothie – please do tell in the comments below. Happy Blending!