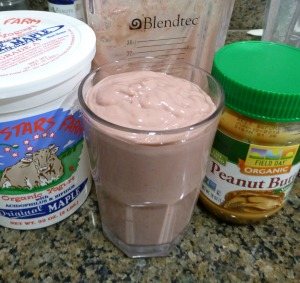 Blast your taste buds into orbit with this delicious and nutritious energizing smoothie that will ensure you have the best day ever!
Seriously though, this is one rich, creamy, lick your blender clean smoothie.
Subscribers of my free newsletter receive some of my best content, not all of which is found on my site, and in return I get great questions and suggestions. This recipe was sent to me by one of my subscribers, Christine. She and her daughter find this smoothie divine, and I agree. Thanks for the recipe, Christine!
Besides being mouthwatering, this smoothie is also high in protein, thus a great meal replacement or after workout replenishment.
If you're looking for less sugar and more healthy fat like I often advocate (especially for weight loss), substitute 1/2 avocado for the banana. Another twist per Christine is to use ice cream instead of yogurt. The party has already begun in my mouth from thinking about that. Yes, you can purchase and make healthy ice cream. Here are a few healthy homemade ice cream recipes I love: Homemade Vanilla, Chocolate or Mint Chocolate Chip Ice Cream
Peanut Butter Blasta Smoothie Recipe
The Ingredients
1 cup yogurt
1 fresh or frozen banana
1/2 cup fresh or frozen raspberries
2 tablespoons peanut butter
1 tablespoon cacao powder
The Add-ons
A little honey, maple syrup, or stevia to sweeten
1/2 teaspoon vanilla powder or extract
1 tablespoon flax or chia seeds
1 serving of your preferred protein powder
Any other healthy ingredients you have on hand
Show Time
Place all the ingredients into your high-speed blender and blend for around 30-45 seconds or until nice and smooth.
Nutrition Information
Calories: 505
Fat: 27g
Protein: 20g
Carbohydrates: 55g
Fiber: 11g
Sugar: 30g
Vitamin C: 46% RDA
Vitamin E: 20% RDA
Calcium: 34% RDA
Iron: 11% RDA
Christine and I would love to know if you try this peanut butter blasta smoothie – please leave a comment below. Happy Blending!