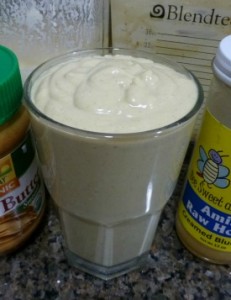 What a delightful treat this was for breakfast this morning. Rich, creamy, and full of flavor and good nutrition.
Peanut butter has a special place in my heart. Without it I never would have made it through college. Peanut butter sandwiches were the foundation of my diet. If only I knew then what I know now :)
Thankfully, peanut butter is a healthy food with some nice health benefits such as:
Good source of protein (2 tablespoons contains about 7 grams) and healthy fats
Calories from protein and fat keep you satiated, less likely to reach for a snack, and provide ample fuel for your daily activities
High in potassium, magnesium, and vitamin E  (think antioxidants)
Good source of fiber
Heart friendly
The peanut butter I consumed in college wasn't organic, which I recommend now, but surely better than cafeteria food and Ramen noodles.
I made this smoothie without any add-ons. Next time I'll be adding cacao to experience that chocolate and peanut butter synergy. Enjoy!
Peanut Butter Kefir Smoothie Recipe
The Ingredients
1 cup kefir
1/2 medium avocado
2 tablespoons peanut butter
1/2 teaspoon vanilla powder or extract
1/2 tablespoon raw honey
The Add-ons
1/2 tablespoon cacao powder or nibs
1/2 fresh or frozen banana
For additional protein: 1 serving of your preferred protein powder or 1 tablespoon gelatin
Any other healthy ingredients you have on hand
Show Time
Place all the ingredients into your high-speed blender and blend for around 30-45 seconds or until nice and smooth.
Nutrition Information
Calories: 472
Fat: 35g
Protein: 15g
Carbohydrates: 31g
Fiber: 9g
Sugar: 11g
Vitamin E: 27% RDA
Vitamin K: 26% RDA
Calcium: 22% RDA
Iron: 6% RDA
I'd love to know if you try this peanut butter kefir smoothie – please leave a comment below. Happy Blending!