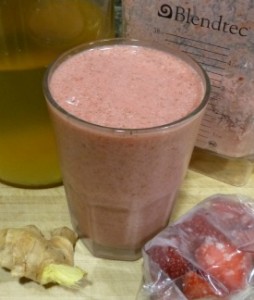 Kombucha has become my fermented beverage of choice lately. I make my own because it's easy and affordable.
A few weeks ago my brother had me try GT's Kombucha Gingerade – oh my was it tasty! The ginger flavor was over the top delicious. My regular old kombucha didn't seem so special after all ;)
In order to capture that ginger goodness I double fermented my next kombucha brew with fresh ginger. It wasn't quite as gingery as GT's, but very good nevertheless.
This smoothie recipe is the result of my recent infatuation with ginger and kombucha, two things that combine to offer a bevy of health benefits.
Here's a quick health benefits hit list for kombucha:
Increased metabolism and energy
Improved digestion
Headache and migraine relief
Alkalizing effect on the body
Helps rebuild connective tissues
Detoxification of the liver
Helps clear up candida & yeast infections
Anti-cancerous
Reduced blood pressure
Reduced gray hair
What ginger has to offer:
Anti-Inflammatory action (studies have shown relief from arthritis)
Offers protection against many cancers
Digestive aid – effective at relieving nausea and vomiting
Antioxidant properties
Immune booster
Supports cardiovascular health
The base recipe isn't as thick as most of my smoothies. To thicken, add ice, banana, or additional frozen fruit. Enjoy!
Ginger Strawberry Kombucha Smoothie Recipe
The Ingredients
1 cup kombucha (homemade or store bought – I like GT's Kombucha)
1 cup frozen strawberries
1 tablespoon coconut oil
2 tablespoons chia seeds or chia seed gel
1/4 inch ginger, peeled and minced or 1/2 teaspoon powdered ginger
The Add-ons
A little honey, maple syrup, or stevia to sweeten
4-6 ice cubes
1 fresh or frozen banana
1/2 cup frozen blueberries
Any other healthy ingredients or superfoods you have on hand
Show Time
Place all the ingredients into your high-speed blender and blend for around 30-45 seconds or until nice and smooth. Note, if you don't have a very powerful blender you might want to blend everything except the coconut oil first, then drizzle it on and blend for another 5-10 seconds to avoid clumping.
Nutrition Information
Calories: 351
Fat: 23g
Protein: 6g
Carbohydrates: 34g
Fiber: 14g
Sugar: 9g
Vitamin C: 103% RDA
Folate: 35% RDA
Calcium: 21% RDA
Iron: 20% RDA
I'd love to know if you try this ginger strawberry kombucha smoothie – please leave a comment below. Happy Blending!