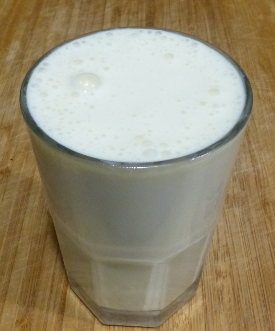 After my first two sips of this smoothie one word came to mind: fantabulous :)
Not only is this one delicious smoothie, it's creamy and has a nice mouth feel. Definitely a keeper that I'll be making again.
This is the kind of smoothie I like to make for dessert or as a treat, a nutritious and healthy treat that is.
The idea for this recipe came from a site dedicated to Greek yogurt, therefore I'm going to focus its health benefits. Here are some of the top health benefits of good old Greek yogurt:
Good natural source of protein. A 6-ounce serving contains 15 to 20 grams.
Greek yogurt is rich in beneficial bacteria or probiotics. These friendly flora are essential to proper digestion, assimilation of nutrients, and immune system functioning.
Good source of calcium that's more easily absorbed due to the beneficial bacteria or live cultures.
Greek yogurt has 40% less sugar and 38% less sodium than most traditional yogurt.
For more information on Greek yogurt, I suggest you head on over to Greek Yogurt Paradise.
If you want to check out the original recipe I was inspired by: Greek Yogurt Pina Colada Smoothie.
I made this smoothie without a sweetener. The pineapple provided plenty of sweetness for my taste. Enjoy!
Pina Colada Smoothie Recipe
The Ingredients
1/2 cup milk of choice (I used raw milk)
1 cup frozen pineapple chunks
1/2 cup Greek yogurt
1/4 teaspoon vanilla powder or extract
A little honey, maple syrup, or stevia to sweeten (optional)
The Add-ons
3 – 5 ice cubes
1 tablespoon coconut flakes or shreds
1 teaspoon coconut oil
1 cup spinach, kale, or other leafy green
1 tablespoon flax or chia seeds
Show Time
Place all of the ingredients into your high-speed blender and blend for around 30-45 seconds or until nice and smooth.
Nutrition Information
Calories: 310
Fat: 17g
Protein: 10g
Carbohydrates: 33g
Fiber: 3g
Sugar: 26g
Vitamin A: 14% RDA
Vitamin C: 132% RDA
Calcium: 33% RDA
Iron: 3% RDA
I'd love to know if you try this pina colada smoothie and how you liked it. Please leave a comment below. Happy Blending!