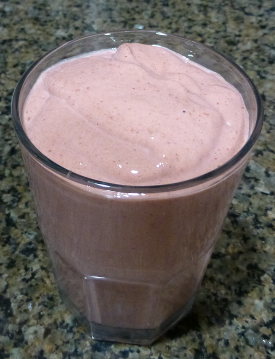 This flavorful and exceptionally nutritious smoothie featuring the five-flavor superfood, schizandra berry, is sure to tickle your taste buds and ensure you have the best day ever :)
Schizandra berry is one of my new favorite superfoods. I dabbled with the berries in the past, using them to make tea, but it wasn't until this fabulous new extract powder recently hit the market that it became a regular in my rotation.
Here's a quick run down of the top health benefits attributed to this wonderful superfood.
Boosts the immune system
Promotes better sleep
Adaptogenic properties help reduce stress
Good for your liver
Mental stimulation
Good for your skin
Increased endurance and stamina
Improved sexual health
Cancer protection
Promotes longevity and vitality
For the full download on schizandra berry, please check out my article: Schizandra Berry: Five Flavor Superfood
I added the milk to my blender first followed by the frozen strawberries, which I let soak for a couple of minutes to soften and prevent chunks. My Blendtec is powerful alright, but it doesn't always pulverize larger fruit fresh right out of the freezer. The strawberries and schizandra painted this smoothie a light red or almost pink color. Enjoy this medley of superfoods!
Schizandra Berry Superfood Smoothie Recipe
The Ingredients
1 cup milk of choice (I used raw milk)
1/2 avocado
1 cup fresh or frozen strawberries
1/2 tablespoon cacao powder
1 teaspoon coconut oil
1 teaspoon Schizandra berry powder
1 teaspoon honey (substitute maple syrup or stevia)
The Add-ons
1 tablespoon coconut flakes or shreds
1 tablespoon chia seeds or chia seed gel
1 tablespoon goji berries
Show Time
Place all the ingredients into your high-speed blender and blend for around 30-45 seconds or until nice and smooth. If you don't have a very powerful blender and your coconut oil is in liquid form, you might want to blend everything except the coconut oil first, then drizzle it on and blend for another 5-10 seconds to avoid clumping.
Nutrition Information
Calories: 441
Fat: 29g
Protein: 13g
Carbohydrates: 40g
Fiber: 11g
Sugar: 25g
Vitamin A: 9% RDA
Vitamin C: 166% RDA
Calcium: 34% RDA
Iron: 8% RDA
I'd love to know if you try this schizandra berry superfood smoothie and how you liked it. Please leave a comment below. Happy Blending!