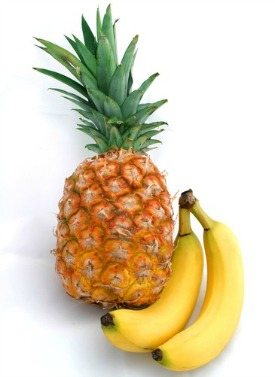 Treat yourself to this tropical, delicious, fruity, healthy, quick and easy to make smoothie.
This recipe comes not from my own kitchen experimentation, but rather a loyal reader and smoothie enthusiast. Thanks, Corinne!
I tend to get carried away with the ingredients when concocting my smoothies; so it was nice to blend up a tasty treat that only contained four ingredients. Sometimes simple is best.
A few health benefits you'll derive from this smoothie:
Immune system booster
Great for digestion and elimination
Provides antioxidant protection
Good for your bones
Supports the health of your eyes
Rich in an array of vitamins and minerals, in particular vitamin C, manganese, and potassium
The original recipe from Corinne called for frozen yogurt. I substituted an organic maple syrup flavored one. Feel free to use your preferred yogurt. Enjoy!
Pineapple Banana Smoothie Recipe
The Ingredients
1/2 cup almond milk
1/2 fresh or frozen medium banana
1 cup fresh or frozen pineapple chunks
1/2 cup yogurt
The Add-ons
1 tablespoon coconut oil, flakes or shreds
1 tablespoon chia or flax seeds
1 serving of your preferred protein powder
1 tablespoon superfood such as cacao, maca, goji berries, and/or bee pollen
Show Time
Place all of the ingredients into your high-speed blender and blend for around 30-45 seconds or until nice and smooth.
Nutrition Information
Calories: 254
Fat: 9g
Protein: 5g
Carbohydrates: 43g
Fiber: 5g
Sugar: 29g
Vitamin A: 10% RDA
Vitamin C: 140% RDA
Calcium: 35% RDA
Iron: 6% RDA
I'd love to know if you tried this pineapple banana smoothie and what you thought of it – please do tell in the comments below – and don't forget to thank Corinne for the recipe. Happy Blending!