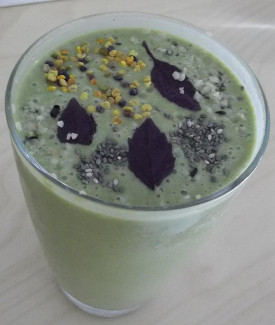 You've got to try this delicious pineapple chlorella green superfood smoothie that's overflowing with nutrients. It will tickle you taste buds and ensure you have the best day ever :)
This smoothie is loaded with nutrition from a variety of ingredients with their own unique health promoting properties. To avoid writing a novel only the two main ingredients, pineapple and chlorella, are profiled. The other ingredients are covered in previous recipes and articles.
Pineapples are rich in vitamin C and manganese, and a good source of dietary fiber, folate, copper, vitamin B1, and vitamin B6. This nutrient profile promotes the following health benefits: anti-inflammatory, antioxidant activity, digestive aid, immune support, and protection against macular degeneration. One cup of pineapple has a mere 82 calories.
Chlorella is a nutritional superstar primarily because of its chlorophyll content. The chlorophyll helps the body process more oxygen, helps cleanse the blood, and promotes tissue growth and repair. Through the process of chelation, chlorella helps detoxify heavy metals by binding to and ushering these bad guys out of the body.
This is the second recipe that was gifted to me by fellow smoothie enthusiast Ana. Thanks, Ana!
Connecting and sharing recipes with people from around the world has proven to be most rewarding. If you have a unique or stellar recipe you think others would enjoy please email me and I'll most likely share it.
If you don't have coconut water, regular water or milk will do just fine. The squeeze of lemon really did put this over the top. Enjoy!
Pineapple Chlorella Smoothie Recipe
The Ingredients
1 cup coconut water
1/2 cup fresh or frozen pineapple chunks
1/3 small avocado
1/4 cup yogurt (preferably full-fat variety)
4-6 fresh basil leaves
1 teaspoon chlorella
1 teaspoon chia seeds or chia seed gel
1 teaspoon maca
1 teaspoon bee pollen
Squeeze of lemon juice, about 1 teaspoon (really important)
A dash of Himalayan pink salt (substitute another high quality salt such as Celtic sea salt)
A little honey, maple syrup, or stevia to sweeten (optional)
The Add-ons
1 serving of your preferred protein powder
1 tablespoon coconut flakes or shreds
1/2 tablespoon cacao powder and/or nibs
Show Time
Place all of the ingredients into your high-speed blender and blend for around 30-45 seconds or until nice and smooth.
Nutrition Information
Calories: 324
Fat: 15g
Protein: 13g
Carbohydrates: 39g
Fiber: 10g
Sugar: 22g
Vitamin A: 54% RDA
Vitamin C: 102% RDA
Calcium: 28% RDA
Iron: 54% RDA
Ana and I would love to know if you try this pineapple chlorella smoothie – please leave a comment below. Happy Blending!