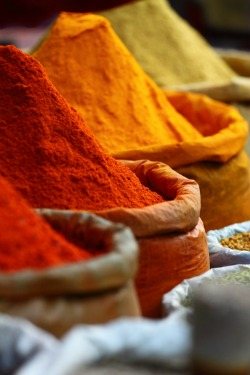 This is the most potent anti-inflammatory smoothie recipe I could concoct based on my current knowledge, research, and ingredients on hand. Whether you're battling a health issue (many of which inflammation is at the root of) or sore from an intense workout, reducing inflammation through a delicious smoothie is easier than most other modalities.
There are a handful of spices known for their anti-inflammatory properties, four of which I included in this recipe. Turmeric, a new smoothie favorite of mine, ginger, cayenne pepper, and cinnamon, the first spice I began blending into smoothies years ago. Not only do these spices provide a wide array of health benefits, they imbue your smoothies with a wonderful flavor…if used in the right proportions.
Let me quickly cover the ingredients that comprise this smoothie from top to bottom, starting with the liquid base, green tea. Green tea contains potent anti-inflammatory compounds known as flavonoids, which studies have shown help reduce the risk of cancer and heart disease.
Next up are blueberries and papaya. The phytonutrients found in blueberries provide both antioxidant and anti-inflammatory effects in the body, and are responsible for many of the health benefits attributed to blueberries. Papayas contain the protein-digesting enzyme, papain, which when combined with vitamin C and E confers anti-inflammatory action.
Chia seeds round out this smoothie. The high amount of omega-3s present in chia seeds combat inflammation, and help lubricate your joints. People suffering from arthritis often experience less pain and inflammation after consuming chia seeds for several weeks.
And there you have it, my best effort at reducing inflammation through modern day blender alchemy. Enjoy!
Spicy Anti-Inflammatory Smoothie Recipe
The Ingredients
1 cup green tea, brought to room temp or chilled
1/2 cup fresh or frozen blueberries
1/2 cup fresh or frozen papaya chunks
1/3 avocado (substitute a banana or ice cubes to thicken)
1 tablespoon chia seeds or chia seed gel
1/2 teaspoon turmeric
1/2 teaspoon ginger
1/4 teaspoon cayenne pepper
1/2 teaspoon cinnamon
A dash of a high quality salt
1 teaspoon honey (substitute maple syrup or stevia)
The Add-ons
1/2 cup fresh or frozen pitted cherries
1 cup baby spinach
1/2 tablespoon coconut oil
Show Time
Load the ingredients into your high speed blender and blend for around 30-45 seconds or until your desired consistency is reached.
Nutrition Information
Calories: 266
Fat: 13g
Protein: 4g
Carbohydrates: 41g
Fiber: 12g
Sugar: 22g
Vitamin A: 28% RDA
Vitamin C: 141% RDA
Vitamin K: 106% RDA
Calcium: 10% RDA
Iron: 22% RDA
I'd love to hear what you think of this Spicy Anti-Inflammatory smoothie, or if you try it out, in the comments below. Happy Blending!