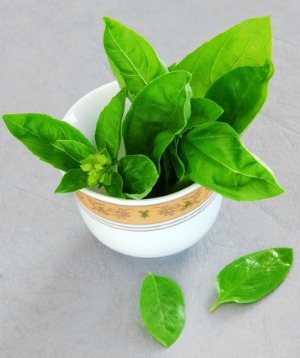 The adventurous smoothie maker that I am, I don't know what took me so long to try blending fresh basil. Procrastination aside, let's just say I'm delighted to have found another super smoothie ingredient to play with and benefit from.
Incorporating herbs and spices into your smoothies is a great way to boost nutrition and improve the flavor. Basil is no exception. So, how can you improve your health with basil?
Do you enjoy inflammation? Me neither. Basil is best known for its potent anti-inflammatory properties. Anyone suffering from arthritis or inflammatory bowel conditions can find relief from basil.
We all know how important antioxidants are, and basil is loaded with them. These free radical scavengers go to work all over the body helping to reduce signs of aging, alleviating common skin problems, protecting against some types of cancer, and ultimately offer protection at the cellular level.
Basil also supports a healthy cardiovascular system and has strong anti-bacterial properties. The flavonoids and volatile oils in basil are responsible for more its health benefits.
For the nerdy types like me, basil is extremely rich in vitamin K, and contains a fair amount of iron, calcium, fiber, manganese, and vitamin A along with trace amounts of other vitamins and minerals. For more information, see this article on the health benefits of basil.
Basil is an herb you can grow at home or get fresh from the farmers market. I'm fortunate enough to be able to source fresh basil from my local organic CSA (Community Sponsored Agriculture). Basil is an easy addition to any diet – now try a little fresh basil in your smoothie and enjoy!
Strawberry Banana Basil Smoothie Recipe
The Ingredients
1 cup water
1 fresh or frozen medium banana
1/2 cup fresh or frozen strawberries
5-10 fresh basil leaves
4-6 ice cubes (recommended if your fruit isn't frozen)
A little honey, maple syrup, or stevia to sweeten (optional)
The Add-ons
1/4 cup Greek yogurt
1 tablespoon flax seeds or chia seeds
Anything else that sounds good :)
Show Time
Put all of the ingredients into your high speed blender and blend for anywhere from 30-45 seconds or until the desired consistency is reached.
Nutrition Information
Calories: 130
Fat: 1g
Protein: 2g
Carbohydrates: 33g
Fiber: 5g
Sugar: 18g
Vitamin A: 7% RDA
Vitamin C: 93% RDA
Calcium: 3% RDA
Iron: 4% RDA
Please leave a comment below if you try this strawberry banana basil smoothie. Happy Blending!