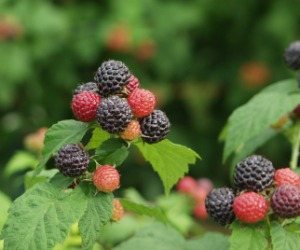 This past Sunday I did a little foraging with my friend and one of the goodies we collected were black raspberries. They're a little smaller than the conventional store bought variety, but pack a hefty nutritional punch and are quite tasty.
Black raspberries are often referred to as the "king of berries" because of their superior health benefits. They are best known for their potent antioxidant and anti-cancer properties, and also provide anti-inflammatory and anti-tumor effects. Black raspberry supplements such as capsules, soft gels, and powders are a testament to their health promoting properties.
Most people know about the antioxidant powers of blueberries, which are impressive. Black raspberries antioxidant properties (as measured by the ORAC scale) are three times higher! That's some serious antioxidant power.
Black raspberries get their dark pigment, which stained my hands when harvesting, from anthocyanins, often used as a colorant or dye, and responsible for their antioxidant awesomeness. According to research, anthocyanins help improve vision, heart health, and memory in adults.
A quick aside, foraging wild edibles from your local environment is a very rewarding endeavor in my opinion. The initial allure for me was to procure healthier food and herbs. Wild plants have much more plant medicine and nutrition than the cultivated variety. Spending more time in nature, learning about local plants and herbs and the absolute abundance around me has proved to be quite fulfilling. I encourage you to do some foraging yourself.
If you don't have access to wild black raspberries, or even black raspberries, the good old red variety will do just fine for this smoothie recipe. Enjoy!
Wild Black Raspberry Smoothie Recipe
The Ingredients
1 cup water
1 cup fresh or frozen black raspberries
1/2 cup fresh or frozen strawberries
1/2 fresh or frozen banana
1/2 teaspoon vanilla powder or pure vanilla extract
3-6 ice cubes
A little honey, maple syrup, or stevia to sweeten (optional)
The Add-ons
1/2 cup fresh or frozen raspberries
1 tablespoon flax seeds or chia seeds
1/2 tablespoon coconut oil
Any superfood you desire – such as cacao, maca, or bee pollen
Show Time
Put all of the ingredients into your high speed blender and blend for anywhere from 30-45 seconds or until the desired consistency is reached.
Nutrition Information
Calories: 151
Fat: 1g
Protein: 3g
Carbohydrates: 35g
Fiber: 12g
Sugar: 17g
Vitamin C: 138% RDA
Vitamin K: 15% RDA
Calcium: 6% RDA
Iron: 8% RDA
Please leave a comment below if you try this wild black raspberry smoothie. Happy Blending!