Oh how I love my berries :)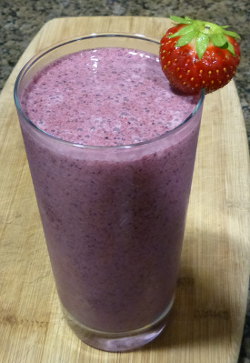 Sprinkled on yogurt or ice cream, in a salad, dehydrated in trail mixes, in pancakes and waffles – there's no shortage of ways to incorporate these lovelies into your diet.
As you might imagine my preferred method of eating berries is via smoothies.
People often get carried away with sugary fruit in their smoothies creating what I like to call a sugar-bomb. That's hard to do with berries, which are naturally sweet, but don't contain too much sugar.
The three berries this smoothie calls for combine to offer some serious antioxidant activity. Free radicals beware! They also offer the following health benefits:
Anti-inflammatory action
Cardiovascular protection
Anti-aging properties
Blood sugar regulation
Increased brain power
Support healthy bones
Anti-Cancer benefits
Berries are the epitome of delicious and nutritious!
For my version of this smoothie I used frozen blueberries and raspberries. The strawberries were fresh from the farmer's market. These berries may not be accessible to you. Substitute the berries that are local to where you live. I considered naming this Local Berry or Michigan Smoothie to emphasize using local ingredients. Enjoy!
Super Berry Smoothie Recipe
The Ingredients
1/2 cup water or milk of choice
1/2 cup plain yogurt
1/2 cup fresh or frozen strawberries
1/2 cup fresh or frozen blueberries
1/2 cup fresh or frozen raspberries
1/4 teaspoon vanilla extract or powder
The Optional Add-ons
1 tablespoon goji berries
1/2 cup blackberries
1 cup spinach, kale, or other leafy green
1/2 tablespoon cacao powder, maca, or any other superfood
Show Time
Place all of the ingredients into your blender and blend for around 30-45 seconds or until nice and smooth.
Nutrition Information
Calories: 259
Fat: 13g
Protein: 7g
Carbohydrates: 34g
Fiber: 9g
Sugar: 22g
Vitamin A: 6% RDA
Vitamin C: 120% RDA
Calcium: 28% RDA
Iron: 6% RDA
I'd love to know if you try this super berry smoothie and how you liked it. Please leave a comment below. Happy Blending!