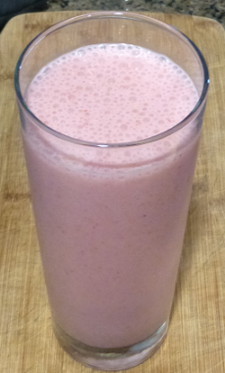 Tickle your taste buds with this delicious, nutritious, and filling smoothie. Breakfast, lunch, or healthy snack – this smoothie has you covered.
In this third installment of oatmeal based smoothies I bring you this strawberry treat. Strawberries are just coming into season here in Michigan which means I need clear out those stragglers in my freezer from last year to make room for a fresh crop.
Here's a quick rundown of the health benefits of this smoothie.
High in vitamin C, manganese, and fiber, strawberries are good for your cardiovascular system, impart antioxidant, anti-inflammatory, and anti-cancer properties, and help regulate blood sugar.
Oatmeal is also high in fiber, helps stabilize blood sugar, supports a healthy heart, and imparts antioxidant properties. In addition, oatmeal is an immune system booster, lowers cholesterol, and is an excellent source of magnesium.
It's important that you properly prepare your oats before consuming. See my Fruity Oatmeal Smoothie which contains simple preparation instructions to maximize nutrition and digestibility.
This recipe is pretty basic. Feel free to incorporate one or more of the optional add-ons or any other ingredients you have on hand. Enjoy!
Strawberry Oatmeal Smoothie Recipe
The Ingredients
1 cup kefir or raw milk or nut milk of choice
1/2 cup rolled oats (soaked and cooked)
1 cup fresh or frozen strawberries
1/4 teaspoon vanilla extract or powder
A little honey, maple syrup, or stevia to sweeten (optional)
The Add-ons
4-8 fresh mint leaves
1/2 tablespoon cacao powder
1/4 avocado
1 cup spinach, kale, or other leafy green
1/2 tablespoon grass-fed butter
Show Time
Place all of the ingredients into your blender and blend for around 30-45 seconds or until nice and smooth.
Nutrition Information
Calories: 361
Fat: 12g
Protein: 15g
Carbohydrates: 49g
Fiber: 7g
Sugar: 18g
Vitamin A: 12% RDA
Vitamin C: 153% RDA
Calcium: 32% RDA
Iron: 4% RDA
I'd love to know if you try this strawberry oatmeal smoothie and how you liked it. Please leave a comment below. Happy Blending!