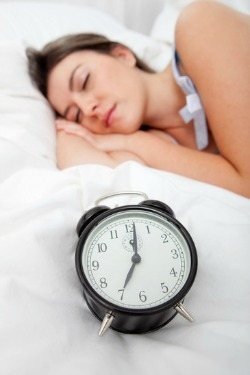 Are you having trouble sleeping at night? Say goodbye to insomnia and hello to a good night's sleep full of sweet dreams with this smoothie.
Most people aren't getting enough sleep at night for one reason or another and their health and way of life is suffering because of it. Fortunately, there are a several foods that blend well in a smoothie that are known to induce a good night's sleep.
These foods contain substances such as magnesium, a natural sedative, melatonin, sleep regulator, and serotonin, another chemical that induces sleep.
Here are the ingredients for this smoothie and how each one contributes to a good night's sleep.
Warm Milk: This is probably a familiar sleep remedy for most people. The calcium in milk helps you relax and the tryptophan helps you fall asleep.
Banana: They contain melatonin and serotonin, which help you sleep soundly, and magnesium, a muscle relaxant.
Cherries: A natural food source of melatonin, which helps regulate sleep.
Nutmeg: Acts as a natural relaxant and helps induce sleep.
Honey: Used for years as a natural sleep aid, honey contributes to the release of melatonin.
Other notable ingredients that I've included as add-ons.
Flax seeds: Their high amounts of tryptophan and omega-3 fatty acids increase levels of the sleep-regulating serotonin.
Almonds: A good source of magnesium, which promotes sleep and muscle relaxation.
Cacao: Another good source of magnesium, but be careful with this one, some people feel more alert after consuming.
It's been my experience that the healthier the food you eat throughout the day the better you'll sleep at night. But sometimes you need something shortly before bed to help you relax and ensure a good night's rest, enter this smoothie.
If you don't have time to make a smoothie (although it doesn't take long :)) you could simply have a glass of warm milk with a little nutmeg and honey, or a handful of cherries or a banana. Whatever will help you achieve sweet dreams.
If you don't do milk, you can substitute a warm tea such as Chamomile or Valerian, or cherry juice. Enjoy!
Sweet Dreams Smoothie Recipe
The Ingredients
1/2 cup warm milk
1/2 fresh medium banana
1/2 cup pitted cherries
1/4 teaspoon nutmeg
1 teaspoon honey
The Add-ons
1 tablespoon flax seeds
1/4 cup almonds
1/2 tablespoon cacao powder
Show Time
Place the ingredients into your high speed blender and blend for around 30-45 seconds or until your desired consistency is reached.
Nutrition Information
Calories: 199
Fat: 5g
Protein: 6g
Carbohydrates: 36g
Fiber: 3g
Sugar: 27g
Vitamin A: 5% RDA
Vitamin C: 17% RDA
Calcium: 16% RDA
Iron: 2% RDA
Please leave a comment below if you try this sweet dreams smoothie and get a good night's sleep. Happy Blending!