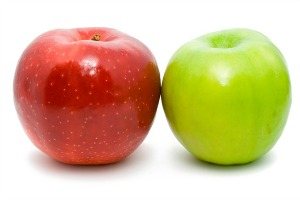 If you're in the mood for an applicious green smoothie, then you didn't land here by mistake.
We're all familiar with the famous adage, "An apple a day keeps the doctor way". My version, or upgrade goes like this, "A green smoothie a day keeps the doctor away, and ensures you have the best day ever!"
Let's quickly explore the health benefits associated with apples before we get to this delicious smoothie recipe.
Apples are high in dietary fiber, vitamin C, and contain a relatively low amount of calories. Think perfect sweet snack, especially when on the go, or smoothie ingredient. Because of their hunger satisfying quality they're good for weight loss.
The unique balance of phytonutrients found in apples have been shown to provide powerful antioxidant properties, cardiovascular benefits, blood sugar regulation, anti-cancerous benefits, help with asthma, as well as reduce the onset and development of several age related illnesses. The antioxidant quercetin boosts your endurance, making an apple a great snack before exercising.
For more information, see this web page outlining all the wonderful health benefits of apples.
Use your favorite apple for this recipe. That's Granny Smith for me. Enjoy!
Amazing Apple Green Smoothie Recipe
The Ingredients
1 cup organic apple juice
1 apple, cored
1/2 cup fresh or frozen strawberries
1 cup baby spinach
1 teaspoon coconut oil
1/2 teaspoon cinnamon
The Add-ons
1/2 cup frozen blueberries
1 serving of your preferred green superfood powder
1/2 tablespoon maca
Show Time
Put the ingredients into your blender and blend for anywhere from 30-45 seconds – or until the desired consistency is reached.
Nutrition Information
Calories: 297
Fat: 5g
Protein: 3g
Carbohydrates: 64g
Fiber: 9g
Sugar: 49g
Vitamin A: 160% RDA
Vitamin C: 297% RDA
Calcium: 13% RDA
Iron: 24% RDA
Let me know what you think of this recipe, or if you try this amazing apple green smoothie by leaving a comment below. Happy Blending!