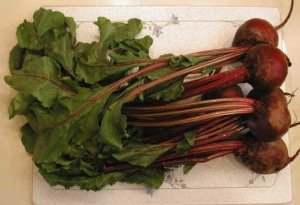 Looking for a new green to use in your smoothies? Give beet greens a try. Beet greens are quite nutritious, and their mild flavor is easily masked by a sweet fruit such as banana.
Beet greens are particularly rich in vitamins K and A. Vitamin K works in tandem with calcium to produce strong bones. If you suffer from osteoporosis or would like to reduce your chances of developing it, ample amounts of vitamin K should be a present in your diet.
Vitamin A is essential for the health of your eyes. It's been shown to improve and help maintain good vision, and help combat common age-related eye problems. Vitamin A also boosts your immune system by stimulating antibodies and white blood cell production.
Next time you buy some beets don't toss the greens, add them into your smoothie. I like to wash beet greens in cold water, remove any large stems, and then chop the greens into small, bite-sized pieces for easy blending.
Keep in mind, for pretty much every green smoothie recipe on Healthy Smoothie HQ you can use the various greens interchangeably. Just remember to rotate your greens every couple of weeks. Enjoy!
Banana Beet Green Smoothie Recipe
The Ingredients
1 cup water
1 cup beet greens, chopped, thick stems removed and discarded
1 fresh or frozen medium banana
1 tablespoon chia seeds or chia seed gel
A little honey, stevia, or maple syrup to sweeten (optional)
The Add-ons
1/2 cup frozen berries of choice
1/2 tablespoon coconut oil
1 serving of your preferred protein and/or green superfood powder
Show Time
Add the ingredients into your high speed blender and blend for 30-45 seconds or until the desired consistency is reached.
Nutrition Information
Calories: 149
Fat: 3g
Protein: 3g
Carbohydrates: 32g
Fiber: 7g
Sugar: 15g
Vitamin C: 36% RDA
Vitamin K: 256% RDA
Calcium: 10% RDA
Iron: 14% RDA
If you try this banana beet green smoothie please leave a comment below and tell me all about it. Happy Blending!