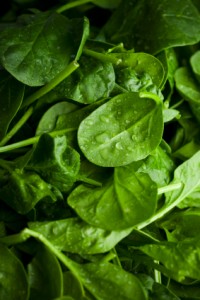 Whenever I feel the need to turn my smoothie to the "green" side, I generally do so with spinach. I'm fortunate enough to have access to local, organic spinach from my CSA (community sponsored agriculture).
Spinach blends easier and isn't as bitter as other greens like kale and dandelion, which makes it easier to create a delicious smoothie. Parents, keep this in mind when trying to get your kids to drink green smoothies.
The Health Benefits of this Smoothie
Antioxidants galore: spinach and blueberries combine for a massive amount of these free radical scavengers.
Phytonutrients in spinach proven to be anti-inflammatory and anti-cancerous.
Spinach is extremely rich in vitamin K, which is important for maintaining bone health.
Spinach is also rich in vitamin A, manganese, folate, magnesium, and iron.
Blueberries offer cardiovascular benefits, cognitive benefits (brain berries), support eye health, and are anti-cancerous.
Vitamin C: blueberries, spinach, and bananas all contain this essential vitamin.
Now that you know how healthy the ingredients for this blueberry spinach green smoothie are, let's get to the recipe.
Blueberry Spinach Green Smoothie Recipe
The Ingredients
1 cup water
2 cups baby spinach
1/2 cup frozen blueberries
1 fresh or frozen medium banana
A little honey, stevia, or maple syrup to sweeten (optional)
The Add-ons
1 tablespoon flax or chia seeds
1/2 cup additional frozen berries of choice
1/3 cup Greek yogurt (for a creamier smoothie)
1 serving of your preferred protein and/or green superfood powder
Show Time
Add the ingredients into your high speed blender and blend for 30-45 seconds or until the desired consistency is reached.
Nutrition Information
Calories: 161
Fat: 1g
Protein: 4g
Carbohydrates: 40g
Fiber: 6g
Sugar: 22g
Vitamin C: 57% RDA
Vitamin K: 381% RDA
Calcium: 8% RDA
Iron: 12% RDA
If you try this recipe please leave a comment below and tell me all about it. Cheers!
Live in or around Brighton, MI where I reside? Here's the farm I get my organic produce from: Stone Coop Farm.