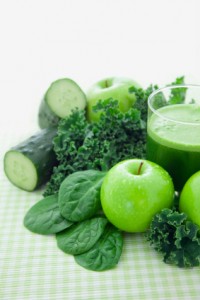 In celebration of St. Patty's Day I whipped up a nice, big, creamy green smoothie. Don't get a shamrock shake from McDonald's or guzzle of a bunch of green beer, go the healthy route and drink a delicious green smoothie that will leave you feeling terrific afterwards.
If you can't find enough four leaf clovers to green your smoothie, use whatever you have on hand, whether it be spinach, kale, lettuce, dandelion, beet greens, or a combination.
Have fun with this smoothie and add in whatever else sounds good and you have on hand. Now for the St. Patty's Day green smoothie recipe. Enjoy!
St. Patty's Day Green Smoothie Recipe
The Ingredients
1 cup water
2 cups greens of your choice (spinach, kale, dandelion, beet greens, lettuce, four leaf clovers…)
1 medium green apple, cored
1 fresh or frozen medium banana
1 teaspoon coconut oil
A little honey, stevia, or maple syrup to sweeten (optional)
The Add-ons
1 serving of your favorite green superfood powder
1/2 cup frozen berries of choice
1 tablespoon flax or chia seeds
Show Time
Place all of the ingredients into your high speed blender and blend for 30-45 seconds or until the desired consistency is reached.
Nutrition Information
Calories: 254
Fat: 6g
Protein: 3g
Carbohydrates: 55g
Fiber: 9g
Sugar: 34g
Vitamin A: 92% RDA
Vitamin C: 77% RDA
Calcium: 7% RDA
Iron: 9% RDA
Leave a comment below if you try this smoothie recipe. Happy St. Patty's Day!