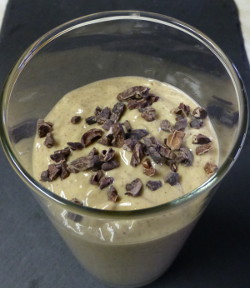 This is what I call a "thickie". It's so dense you may need to eat with a spoon…right from your blender.
Rich, creamy, chocolaty, nutritious – what else can you ask for?
Avocados are one of the most popular ingredients in the smoothie recipes on my site. Nothing else brings the same thickness and creaminess. They also pair well with many other ingredients and offer a nice array of health benefits, which include:
Nutrient Absorption: Studies have shown the improved absorption of certain nutrients when consumed with avocados. I also like to include avocado in my salads for this same reason, and because they taste great.
Heart Healthy: The folate and unsaturated fat in avocados contribute to a healthy heart. The primary fatty acid in avocados, oleic acid, in conjunction with alpha-linolenic acid (ALA) have been shown to improve heart health.
Anti-Inflammatory Action: Several nutrients in avocados help to reduce inflammation throughout the body. For those suffering from arthritis, in particular osteoarthritis and rheumatoid arthritis, regular consumption of avocados can offer relief.
Anti-Cancer: Preliminary studies have shown the ability to help prevent cancers in the mouth, skin, and prostate, likely due to the combination of anti-inflammatory nutrients and antioxidants.
Eye Health: Look no further than the carotenoids for this health benefit.
Blood Sugar Regulation: The carbohydrate profile doesn't lead to spikes in blood sugar levels.
Reduced Cholesterol: Nutrients in avocados have been shown to help lower cholesterol.
This is a well rounded meal replacement smoothie. I had it for breakfast and was satiated until lunch.
Cacao nibs sprinkled on top provide a little crunchiness and are reminiscent of sprinkles on ice cream :)
This smoothie was so tasty I made it again the next day with raw milk instead of kefir and it was just as good. Enjoy!
Chocolate Almond Avocado Smoothie Recipe
The Ingredients
1 cup kefir (substitute raw milk or nut milk of choice)
1/2 large avocado or 1 small avocado
1 tablespoon almond butter (substitute any other nut butter)
1 tablespoon cacao nibs (blended and a few as garnish)
1/4 teaspoon vanilla extract
A dash of sea salt
1/2 tablespoon honey to sweeten
The Optional Add-ons
3-5 ice cubes
1/4 teaspoon cinnamon
1/2 cup berries of choice
1 cup spinach, kale, or other leafy green
1 tablespoon flax or chia seeds
1 tablespoon colostrum
1 tablespoon bee pollen, goji berries, maca, spirulina, or other superfood
Show Time
Place all of the ingredients into your blender and blend for around 30-45 seconds or until nice and smooth.
Nutrition Information
Calories: 396
Fat: 31g
Protein: 11g
Carbohydrates: 27g
Fiber: 10g
Sugar: 15g
Vitamin A: 9% RDA
Vitamin C: 19% RDA
Calcium: 21% RDA
Iron: 12% RDA
I'd love to know if you try this chocolate almond avocado smoothie and what you thought. Please leave a comment below. Happy Blending!