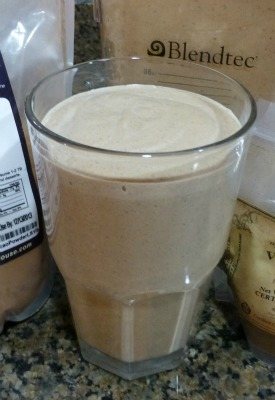 One of my favorite treats growing up was a chocolate Wendy's frosty. I can't remember the last time I had one (at least 5 years), but still secretly crave them :)
This smoothie is my best healthy approximation of that naughty fast-food frozen dessert. Taking unhealthy foods and making them healthy is what I'm all about.
This is a fairly basic and easy to make smoothie as long as you have cacao powder on hand. I provided plenty of add-on suggestions to take this smoothie to the next level of  healthiness.
Quick smoothie health info – cacao is a superfood especially high in magnesium and vitamin C. It's known to aid brain health, boost your mood, improve vision, improve blood flow, prevent cancer, and help maintain healthy cholesterol levels. For the full download on this awesome superfood, see my article What is Cacao and why is it perfect for Smoothies?
Next time your kids ask for a fast-food shake, whip up this smoothie and feel good about feeding them something healthy. Might want to add additional sweetener to satisfy some kids. Enjoy!
Chocolate Frosty Smoothie Recipe
The Ingredients
1 cup milk (raw milk, almond, coconut, hemp)
1 frozen banana
1 tablespoon cacao powder
1/2 tablespoon cacao nibs (optional – for crunchiness)
1/2 teaspoon vanilla powder or extract
3-5 ice cubes (adjust for desired consistency)
A little honey, stevia, or maple syrup to sweeten (optional)
The Add-ons
1 serving of your preferred chocolate protein powder
1 tablespoon almond butter
1 tablespoon dried and powdered down mint leaves, or 5-7 fresh mint leaves (think mint-chocolate)
1 tablespoon coconut oil
1 tablespoon chia seeds or flax seeds
Show Time
Place the ingredients into your high-speed blender and blend for around 30-45 seconds or until nice and smooth.
Nutrition Information
Calories: 295
Fat: 10g
Protein: 11g
Carbohydrates: 43g
Fiber: 5g
Sugar: 27g
Vitamin A: 6% RDA
Vitamin C: 17% RDA
Calcium: 31% RDA
Iron: 5% RDA
I'd love to know if you tried this chocolate frosty smoothie and if you think it compares to the original – please do tell in the comments below. Happy Blending!