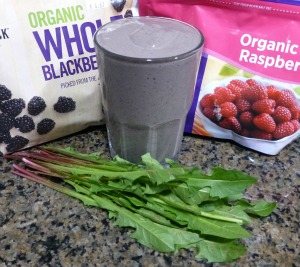 One of my favorite new pastimes is harvesting wild edibles. It's so much fun being out in nature gathering nutrient dense, delicious wild food, for free!
Dandelion is at the top of my favorite things to harvest list. It's loaded with nutrition and the whole plant can be used as food and medicine. It's no longer a pesky weed in my book.
We all know how important green leafy veggies are for our health. Consuming ample amounts each day can be a challenge. What I love about wild edibles is that a little goes a long way. Let me explain.
Wild plants are more nutrient dense (contain more vitamins, minerals, and antioxidants) than commercially grown produce, even local and organic. This higher amount of nutrients is precisely what allows wild plants to survive without someone looking after them, such as a farmer. Because wild plants are so nutrient rich, you don't need to consume heaping amounts, also reducing your caloric intake – win-win!
Ralph Waldo Emerson once said that a weed is simply a plant whose virtues we haven't yet discovered. I think everyone has weeds right outside their door that apply. Another wild green I love is lamb's quarters, often referred to as spinach on steroids.
For specifics on the nutrient profile of dandelion and why it's so health promoting, click here.
A word of caution, don't go picking any old weed and tossing it into you blender. Find an expert and read a book or two, then forage away.
If you're really sensitive to, or dislike bitter tasting foods, use half the amount of dandelion this recipe calls. Enjoy!
Dandelion Berry Smoothie Recipe
The Ingredients
1 cup water
1 cup chopped dandelion greens
1/2 fresh or frozen banana
1 cup frozen berries (blueberries, raspberries, strawberries, blackberries, or a combination)
1 tablespoon coconut oil
1/4 teaspoon cinnamon
A little honey, stevia, or maple syrup to sweeten (optional)
The Add-ons
1 tablespoon flax seeds, chia seeds, or chia seed gel
1 tablespoon cacao powder or nibs
1 serving of your preferred protein powder and/or green superfood powder
Show Time
Place the ingredients into your high-speed blender and blend for around 30-45 seconds or until nice and smooth.
Nutrition Information
Calories: 269
Fat: 15g
Protein: 3g
Carbohydrates: 36g
Fiber: 7g
Sugar: 19g
Vitamin A: 21% RDA
Vitamin C: 61% RDA
Vitamin K: 536% RDA
Calcium: 18% RDA
Iron: 15% RDA
I'd love to know what you think or if you tried this dandelion berry smoothie – please do tell in the comments below. Happy Blending!