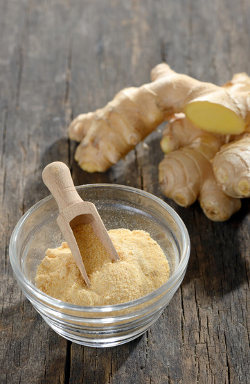 Hello warm, chocolatey, gingery goodness!
The ginger cookie taste I was aiming to recreate didn't quite happen. However, this is still one flavorful and nutritive elixir.
This recipe is loaded with spices that offer myriad health benefits. The star spice of this recipe, ginger, delivers potent anti-inflammatory action, rivaling non-steroidal anti-inflammatory drugs. Ginger is perhaps best known for settling an upset stomach and providing gastrointestinal relief. It has also been implicated in protecting against certain cancers and is an immune system booster.
If you're new to elixirs, they're similar to smoothies, but not quite as thick and generally preferred in the cold weather when a warm drink is much more appealing.
This is a pretty light-weight elixir clocking in at 202 calories. For a more complete beverage (meal replacement) add some coconut oil and gelatin or your preferred protein powder. Enjoy!
Chocolate Ginger Elixir Recipe
The Ingredients
1 cup of warm to hot tea (chaga tea for me)
1 tablespoon grass-fed butter or ghee
1 tablespoon chia seeds or chia seed gel
1/2 tablespoon cacao powder
3/4 teaspoon powdered ginger
1/4 teaspoon cayenne pepper
1/4 teaspoon vanilla extract or powder
1/4 teaspoon cinnamon
2 teaspoons honey
The Add-ons
1 tablespoon coconut flakes or shreds
1/2 tablespoon coconut oil
1 tablespoon gelatin or protein powder of choice
Show Time
Place all of the ingredients into your blender followed by the tea and blend for around 30-45 seconds or until nice and frothy.
Nutrition Information
Calories: 202
Fat: 14g
Protein: 2g
Carbohydrates: 19g
Fiber: 4g
Sugar: 11g
Vitamin A: 11% RDA
Vitamin C: 1% RDA
Calcium: 6% RDA
Iron: 11% RDA
What do you think of this chocolate ginger elixir or elixirs in general? Please leave a comment below. Happy Blending!