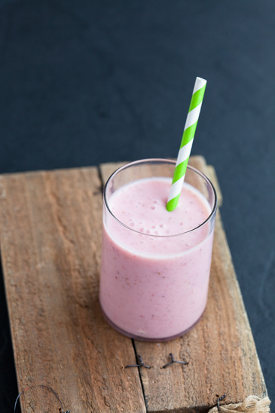 If you like Greek yogurt and rich, flavorful, creamy goodness, you'll love this smoothie.
This recipe is not a result of one of my successful kitchen experiments. Fellow Greek yogurt enthusiast, Elizabeth, gifted this recipe to me.
With ample healthy fat and adequate protein. This smoothie is nice and filling. It's also quite healthy thanks to the star ingredients.
Greek yogurt is a great option for getting more protein into your diet without using a protein powder supplement. It's rich in beneficial bacteria or probiotics. These friendly flora are essential to proper digestion, assimilation of nutrients, and immune system functioning. Greek yogurt also provides a good amount of calcium – in a form that's more easily absorbed due to the beneficial bacteria or live cultures.
Strawberries are loaded with antioxidants (high in vitamin C) and their nutrient profile leads to the following health benefits: boost your immunity, good for you eyes, anti-inflammatory, blood pressure regulator, and good for your skin.
For everything you could ever want to know about Greek yogurt or to view the original recipe, click here.
Most people won't need a sweetener. The fruit provides enough. Enjoy!
Greek Yogurt Strawberry Smoothie Recipe
The Ingredients
1/2 cup milk of choice (I used almond milk)
1 cup Greek Yogurt
1 cup frozen strawberries
1/2 medium orange, peeled
1/2 teaspoon vanilla extract
A little honey, maple syrup, or stevia to sweeten (optional)
The Add-ons
1 tablespoon coconut flakes or shreds
1/2 cup berries of choice
1 cup baby spinach, kale, or other leafy green
Show Time
Place all the ingredients into your high-speed blender and blend for around 30-45 seconds or until nice and smooth.
Nutrition Information
Calories: 398
Fat: 26g
Protein: 11g
Carbohydrates: 33g
Fiber: 6g
Sugar: 21g
Vitamin A: 26% RDA
Vitamin C: 219% RDA
Calcium: 53% RDA
Iron: 6% RDA
What do you think of this Greek yogurt strawberry smoothie, did you try it? Please leave a comment below. Happy Blending!