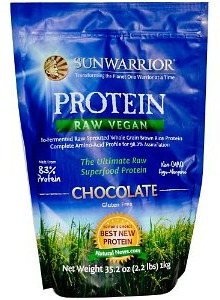 Are you looking to get some additional protein into your diet, or perhaps in need of a good protein source after working out? This recipe, featuring my number one protein supplement, will allow you to get that additional protein along with other vital nutrients in one delicious smoothie.
There are a large number of protein supplements on the market today, most of which aren't worth your hard earned dollars. When people ask me, which is quite often, what protein powder I use in my smoothies, the answer is simple: Sun Warrior. Here are a few of the reasons why I love Sun Warrior protein.
Tastes great, blends well, and no gritty nonsense (flavors include chocolate (my fav), vanilla, and natural)
It's 85% protein with a complete amino acid profile
Easy to digest and absorb for maximum results
Organic, Gluten Free, Hypo-Allergenic, and Non-GMO
Contains other vitamins and minerals, it's not just protein
For the full download on why I prefer this protein, please read my Sun Warrior protein review.
This smoothie is perfect after an intense workout, or as a protein rich meal replacement. You'll deliver a good amount of protein that your body can assimilate and put to use in a relatively short amount of time. I find the chocolate flavor blends well in almost any recipe, especially in conjunction with banana, berries, and cacao.
Chocolate Sun Warrior Protein Smoothie Recipe
The Ingredients
1 cup milk (almond, coconut, hemp, raw milk)
1 fresh or frozen medium banana
1 tablespoon cacao powder
1/2 tablespoon cacao nibs (optional)
1/2 tablespoon coconut oil
1 serving chocolate Sun Warrior protein powder
1/4 teaspoon cinnamon
A little honey, maple syrup, or stevia to sweeten (optional)
The Add-ons
A handful of mint leaves
1/2 tablespoon maca
1/2 cup fresh or frozen blueberries
Show Time
Place the ingredients into your blender and blend away (usually 30-45 seconds) until the desired consistency is reached.
Nutrition Information
Calories: 331
Fat: 12g
Protein: 24g
Carbohydrates: 34g
Fiber: 6g
Sugar: 15g
Vitamin A: 10% RDA
Vitamin C: 17% RDA
Calcium: 33% RDA
Iron: 33% RDA
I would love to know if you try this chocolate Sun Warrior protein smoothie – please leave a comment below. Happy Blending!